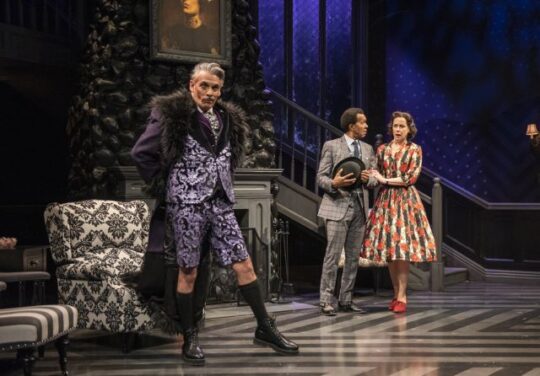 4 stars
Many people familiar with Airbnb these days can probably appreciate issues related to inviting visitors into your home or at least dealing with travelling public.
In this popular Agatha Christie mystery, five distinctly eccentric individuals have each booked their stay on the inaugural weekend opening of Monkswell Manor, a country guesthouse owned and operated by Mollie and Giles Ralston (Kate Fry, Allen Gilmore).
Christopher Wren (Alex Goodrich) an aspiring architect, no relation to the builder of St. Paul's Cathedral, is the first to arrive and Mollie seems to forge a nearly immediate bond with the seemingly troubled and insecure young man.
Mrs. Boyle (Carolyn Ann Hoerdemann) is an importunate matron whom Giles ultimately suggests might be happier elsewhere.
A retired military veteran, Major Metcalf (Lyonel Reneau) is apparently simply out to enjoy some peace in the countryside.
The sexually ambiguous and self-assured young Miss Casewell (Tina Munoz Pandya) has been living abroad but claiming to be back in Britain on non-specific personal business.
The last to officially register at the estate is the flamboyant "foreigner" Mr. Paravicini whose car has allegedly gone off the road and overturned in the midst of the now gathering blizzard thus causing him to appear unexpectedly in search of shelter.
Before long, Detective Sergeant Trotter (Erik Hellman) arrives on skis to warn the Ralstons that the police have reason to believe a murderer who has already killed one person in London is planning to take revenge on one or more of their guest. He is there to find out who the potential criminal is and who may be the potential victim.
Thus the bait is loaded in "The Mousetrap."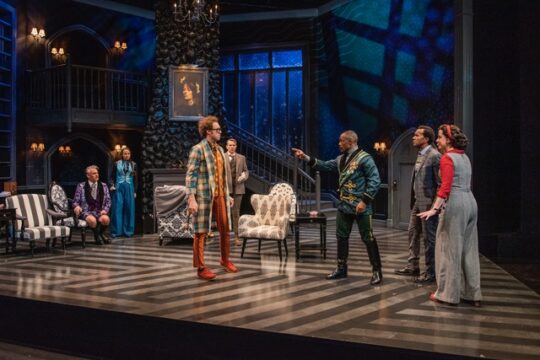 The original production opened in London's West End and has played over 26,000 consecutive performances since 1952.
Though the premise is grim the execution of the plot is full on understated British humor reminiscent of the hilarious British TV comedy Faulty Towers.
The beauty of any well written mystery is that everyone is a suspect. Any one maybe potential victim or the potential perpetrator, leaving the audience to say, "I told you so" or "I had no idea." In this regard this whodunit does not disappoint.
To avoid giving away too much, I will say one of the keys to a successful ruse is the ability of the cast to have you believe their deceptions and misdirections. This Court Theatre ensemble is a perfect collection of professional liars and illusionists.
In regard to misdirection, director Sean Graney does an excellent job of moving the cast in and out and around the magnificent two story set designed by Arnel Sancianco.
There is a substantial amount of chair moving that keeps you wondering what is pertinent and what is not. Combined with a subtle but effective use of pattern in the walls and floor, there is a kind of disorienting funhouse effect that further keeps the audience a bit off balance.
On the surface, Alison Siple's costumes seem like ordinary street clothes except that they give a kind of cartoonish quality to each character that enhances their persona and aids in the misdirection
Incidentally, the tailoring is spectacular. Wren's outfits are as confusing as he is, Paravicini's two piece ensemble is mesmerizing while the blue pinstripe suit of Miss Casewell is a masterpiece.
Congrats to dialect designer Eva Breneman who kept the cast's British accents totally on-point to my Midwestern ears and I assume helped Cerda with his outrageous campy continental articulations.
The play is a delightful deceit on the University of Chicago Campus in Hyde Park on Chicago's southside.
DETAILS:: "The Mousetrap" by Agatha Christie is at Court Theatre, 5535 S. Ellis Ave., Chicago through Feb. 16, 2020. Running time: about 2 hours with one intermission. For tickets and information call (773) 753-4472.or visit CourtTheatre.
Reno Lovison
For more shows visit Theatre in Chicago