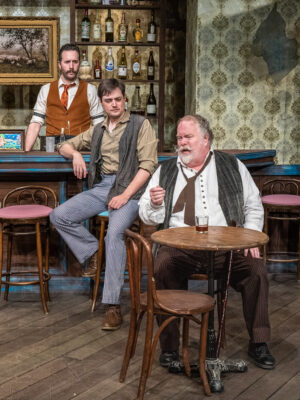 3 Stars
It may be hard to imagine what a conversation would be like between Albert Einstein and Pablo Picasso if the two 20th century geniuses met in a Parisian bar before they achieved international fame.
Comedic actor/screenwriter Steve Martin conceived just such a scenario taking place in 1904 in "Picasso at the Lapin Agile." Premiered at Steppenwolf in 1993, the play is once again delighting Chicago area audiences with witty dialogue at Citadel Theatre in Lake Forest.
Reprised 20 years after Citadel co-owner and director Scott Phelps first mounted the show, the dialogue is still meaningful, intellectual, insightful, philosophical and funny.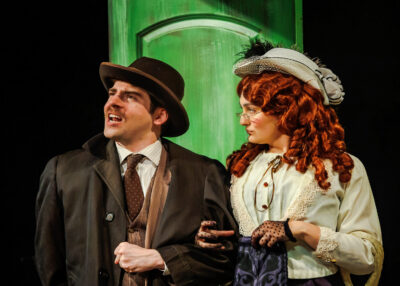 First to set the scene at the Lapin Agile, a real cabaret frequented by artists in the Montmartre district (18th arrondissement) of Paris, are bartender Freddy (Philip C. Matthews), barfly Gaston (Dan Deuel), waitress and Freddy's lover, Germaine (Amy Stricker), and a young, yet to be discovered, Einstein.
He is waiting there for a female friend he told to meet him at a different bar but who knows him well enough to show up at the right location later in the play.
Einstein demonstrates his mathematical mind by answering Freddy's out-loud musings about some supply costs. Meanwhile, Gaston admires a pastoral painting of sheep behind the bar but a small work by Matisse that was just brought in changes the discussion on what constitutes art.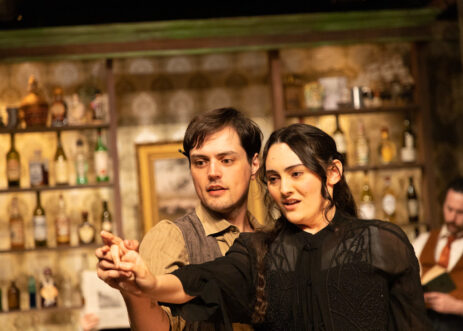 Next on the scene is Suzanne (Juliana Liscio) who has a sketch Picasso gave her during one of their trysts and who wants to see him again. Also entering the bar is Sagot, (Tim Walsh), an art dealer who has already recognized that works by Picasso will eventually be worth many francs.
Eventually, Picasso (Travis Ascione) whom the theater audience seems to have been waiting for, saunters in. Full of himself, he stops at a mirror near the bar.
As different as the geniuses appeared to be, Picasso with an overblown personality and an Einstein who at the time was reserved, the two found each other to be kindred spirits in their vast observations of the world of tomorrow.
The entire cast is excellent but a shoutout also has to go to Jake Busse who pops in as Schmendiman, a crazy, turquois-top-hat wearing inventor of weird, unusable materials.  He points out he is the third man in their scenario.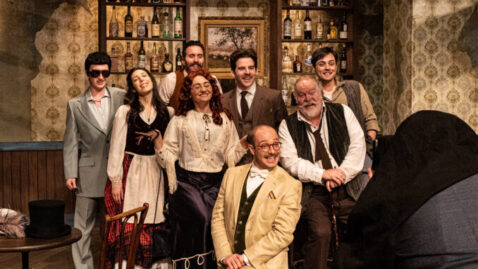 A fourth visitor shows up from the mid-1900's to as his view of the world. But you have to see the show to find out who.
DETAILS: "Picasso at the Lapin Agile" is at Citadel Theater, 300 N. Waukegan Rd., Lake Forest, now through May 22, 2022. Runtime: 90 minutes, no intermission. For tickets and more information visit Citadel Theatre or call (847) 735-8554.
For more shows visit Theatre in Chicago
Jodie Jacobs