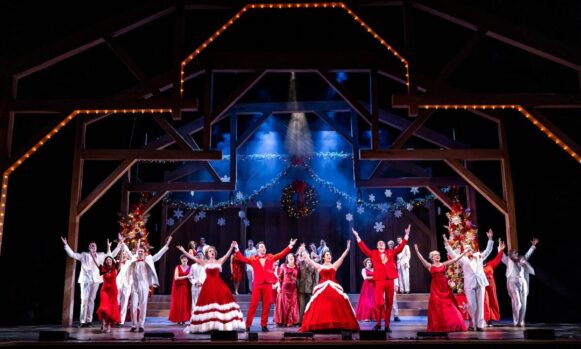 Highly Recommended
 When it comes to holiday shows, "White Christmas" has it all. An amazing score with music and lyrics by composer Irving Berlin, breathtaking choreography, gorgeous costumes and a heart-warming story of loyalty and holiday spirit.
In the capable hands of Music Theater Works and directed by Sasha Gerritson with musical direction by Roger Bingaman and choreographed by Clayton Cross, "White Christmas" soars to even greater heights.
Based on the 1954 film starring Bing Crosby, Danny Kaye, and Rosemary Clooney, "White Christmas" continues to be a holiday favorite. Featuring a new book by David Ives and Paul Blake, the musical features such classic Berlin songs as "Blue Skies," "I Love a Piano," "Count Your Blessings Instead of Sheep, and "White Christmas."
The plot centers on two World War II veterans, Bob Wallace and Phil Davis, who turn their army show into a successful song-and-dance act. They follow a "sister act" to a Christmas stage show and end up at the Vermont inn owned by their former army commander, General Waverly. Sadly, the inn has fallen on hard times, but Bob and Phil decide a big show will drum up business. Will misunderstandings stop the performance, and can they save the inn?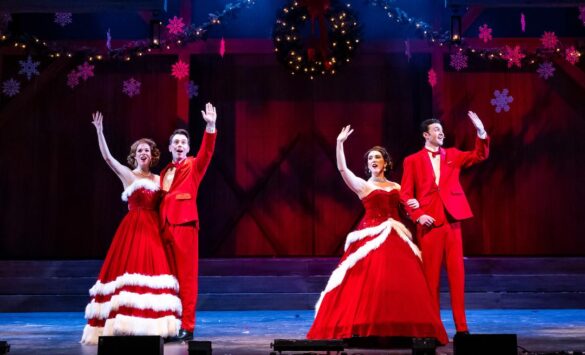 Tommy Thurston, who plays Bob Wallace, can hoof with the best of them. Tall and lanky, he interprets the music with his ultra-smooth movements. Jimmy Hogan offers beautiful vocals with sincere sentiment and matches Thurston's dance chops. Kelly Britt as Judy Haynes has a gorgeous voice, while Anna Marie Abbate as sister Betty charms the audience with her solid performance. Lea Biwer as General Waverly's granddaughter gets a chance to show off her voice later in the show and she is outstanding.
But it's Alicia Berneche as Martha Watson who steals the show every time she's on stage. Her comedic antics, and powerful, booming voice garner the well-deserved applause at every turn.
Kudos to costume designer Elizabeth Monti for her exquisite costumes that brilliantly capture the elegance of the era.  
Irving Berlin's music never sounded better in the Center Theatre and the whole production looks like a giant snow globe come to life…don't miss it!
Details: "White Christmas is in the Center Theatre, North Shore Center for the Performing Arts, 9501 Skokie Blvd, Skokie, now through Jan. 1, 2023. Run time: Approximately 2 hours and 30 minutes with one intermission. For tickets and more information call (847) 673-6300 or visit musictheaterworks.com. Face masks are recommended for all guests.  
Mira Temkin
For more shows visit Theatre in Chicago