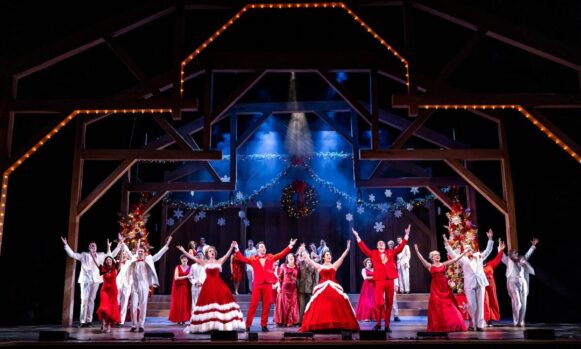 Certainly, holiday shows such as Joffrey Ballet's "The Nutcracker," on stage to Dec. 27, and Goodman Theatre's "A Christmas Carol," up through Dec 31, were on our calendars two months ago to plan the outing. Both are traditional go-to shows for many Chicagoans.
But the season for holiday shows won't be over until the last toast hails a new year. So here are a few shows that may not have caught your attention. One is a good-old standby that still merits a seat while one is a startling new take on an old stand-by and one is fun for youngsters. They can fit into the remaining count-down days of 2022.
 "White Christmas" just opened at the North Shore Center for the Performing Arts in Skokie with Irving Berlin's music and lyrics and a new book by David Ives and Paul Blake. it's a post WWII feel-good, rom/com with joyous music and such lasting melodies as "Blue Skies," "Count Your Blessings," and "How Deep is the Ocean." Presented by Music Theater Works which used to use Cahn Auditorium in Evanston, "White Christmas" continues through Jan. 1, 2023 at 9501 Skokie Blvd, Skokie. For tickets call (847) 673-6300 or visit musictheaterworks.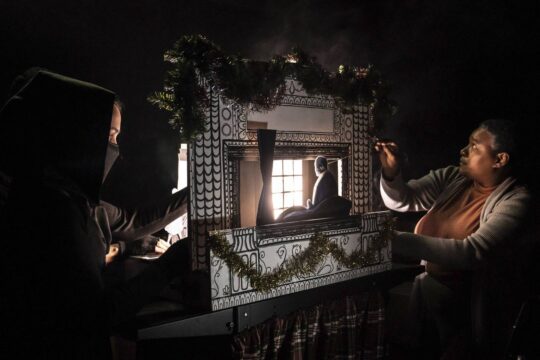 Manual Cinema's Christmas Carol" at Writers Theatre is not a  Goodman Theatre-style production although it mostly uses Dicken's storyline.  Aunt Trudy has been asked by her late husband Joe's relatives to do the "Christmas Carol" puppet show that he did annually. She says she's not really an aunt to the relatives watching on zoom since she never married "husband" Joe and her unhappiness comes across at the start of the show. A storm arrives, the power goes out and ghostly "puppets" intervene until  Trudy realizes she has no choice but continue the Christmas Carol story with shadow puppets and ghosts. She, as was Scrooge, is a different person by the end of the play. Manual Cinema's "Christmas Carol" is at Writers Theatre, 325 Tudor Court, Glencoe, through Dec. 24. For tickets and more information visit Writers Theatre.  Masks are highly recommended. (Audience most be age 6 and older).
"Hershel and the Hanukkah Goblins" is playing at Strawdog Theatre in the Edgewater neighborhood. Based on the Caldecott Honor award-winning book by Eric Kimmel and adapted by ensemble member Michael Dailey with music and lyrics by Jacob Combs, the play follows a traveling troupe of actors who find no one in a town they visit are celebrating Hanukkah because goblins haunt the old synagogue. The production continues through 31, 2022 at The Edge Off-Broadway Theater. Tickets are free with reservations at www.strawdog.org. (COVID protocol: Audience members aged 2+ years must wear a mask covering their nose and mouth. Audience members aged 5+ years must provide, before entering the venue proof of full COVID-19 vaccination or proof of negative PCR test.)
Jodie Jacobs
For more shows visit Theatre in Chicago