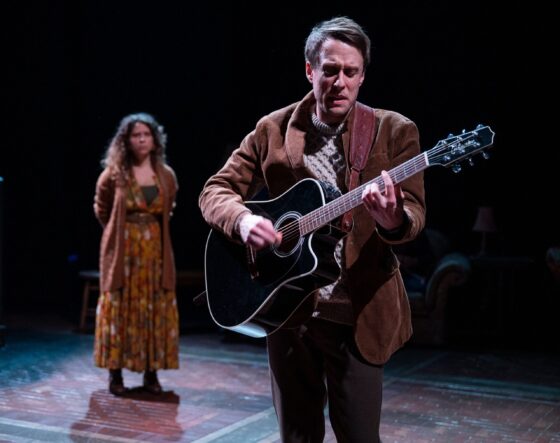 3/1/2 Stars
I fell in love with "Once," a musical based on a John Carney 2007 film, when it first played in Chicago in 2013 and again in 2015.
But the word, "musical," may erroneously bring images to mind of such full-stage touring shows as "Chicago and "Les Miserable."
Appearing now at Writers Theatre where it can intimately be performed almost in-the-round, the audience's focus is on its main characters beautifully portrayed by two popular regional theater actors: Dana Saleh Omar (national tour of "The Band's Visit) as Girl, and Matt Mueller ("The Play that Goes Wrong" tour) as Guy.
Girl is a sympathetic but stubborn musician who pulls Irish musician/song writer Guy away from severe mental despondency when the person he wrote and sang about leaves him for New York City.
Her vehicle to getting through to him is, surprisingly enough, a Hoover Vac that he can fix for her in his father's shop where he lives above the store and works when not writing and performing.
The dialogue, a creative play on words often infused in the script, is something like: "It (the Hoover) doesn't suck," she tells him. "Are you serious," he asks. "I'm always serious. I'm Czech," she says.
On the way to bringing Guy back to a mental state where he wants to live and perform, the audience meets her Czech family, Guy's father, Da, the Irish bartender and band members.
They all make up the show's musician/performing cast. And they all, including Girl's 8-year-old daughter, Ivonka, played by Kajsa Allen, are terrific. (She alternates with 11-year old Viva Boresi.)
As with the national tour production, they also (except for Ivonka) stay on stage, usually seated when not performing. The staging is simple. 
The main differences I found were that the focal point is an upright piano instead of a stocked bar and the musicians/performers had more choreographed stage time that included pre-curtain Irish music.
Kudos to the talented supporting cast: Elisa Carlson (Reza), Yuchi Chiu (Bank Manager), Matt Deitchman (Band music director/ Eamon), Elleon Dobiaa (Ex Girlfriend), Matt Edmonds (Billy), Jordan Golding (Emcee), Lucas Looch Johnson (Svec), Liam Oh (Andre), Ron E Rains (Da) and Bethany Thomas (Baruska).
The show is well directed and choreographed by Katie Spelman with excellent music direction by Deitchman.
 Music and lyrics are by Glen Hansard and Marketa Irglova with book by Enda Walsh.
"Once" picked up 11 Tony Award nominations in 2012, winning eight awards that included Best Actor, Book and Musical. It had also won the Academy Award for best song "Falling Slowly."
Details: "Once is at Writers theatre, 325 Tudor Court, Glencoe now through April 2, 2023. Running time 2 hrs, 20 min. with one intermission. For more information and tickets visit. Writers Theatre. 
Jodie Jacobs
 For more shows visit Theatre In Chicago