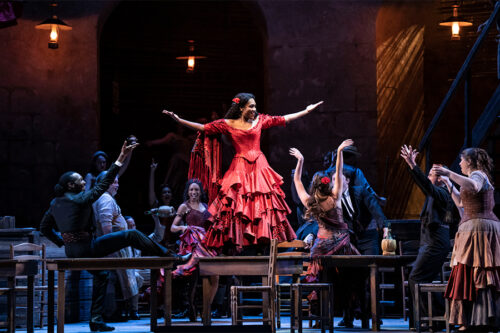 3 stars
Carmen, George Bizet's brazen break with opera traditions when it debuted in Paris in 1875, is the perfect vehicle to introduce high school students to the genre. Indeed, I saw two student groups when at the Wednesday matinee March 15.
An opera that portrays a colorful, independent female who makes her own life and lover choices and that is filled with beautiful duets, solos and powerful musical themes, Carmen changed minds from its originally negative reviews to become among the most popular operas of all time.
Few listeners, even non-opera goers could disagree that Act 1's "Habanera" "L'amour est un oiseau rebelle " (Love is a rebellious bird), a song with a Cuban beat explaining Carmen's temperament, and Act 2's "Toreador Song" sung by the bullfighter Escamillo who would become Carmen's lover, are easily identifiable as from Carmen.
In addition, the voices are superb. Lyric's former Ryan Opera Center star, mezzo-soprano J'Nai Bridges, is the sultry Carmen. Famed tenor Charles Castronovo is Don José who drops his home-town girlfriend, Micaëla, and his regiment when seduced by Carmen.
Although audiences are familiar with most of Act 1's music, the duet of Castronovo and soprano Golda Schultz as Micaëla about a letter and kiss from his mother ("Parle-moi de ma mère!"), drew applause from those listeners who appreciated Schultz's voice. (She was definitely appreciated in Act 3 when singing her aria, "Je dis que rien ne m'épouvante" as she gathered courage to try to pull José away).  
Baritone Andrei Kymach is fine and appropriately confident as bullfighter Escamillo.
The set design nicely evoked a Spanish square and I still liked the mountains and moon I saw in an earlier Carmen at the Lyric. Of course, Bizet's music dramatically tells the story. So why did the production feel that something was missing?
The voices were excellent, but except with Schultz, there seemed to be a gauze screen between the singers. I remember when years ago they stood still to sing their arias. Now, opera stars are expected to act their roles so I was looking for more intensity.
Maybe it was the music's tempo. It's not supposed to overpower the singers but it wasn't strong enough in parts.
Or maybe Bridges, who is gorgeous, could up the sultry moves and maybe Castronovo could seem reluctant to leave Micaëla as Carmen tries to pull him in with her teasing.
I definitely recommend this Carmen because the voices are excellent but I left feeling something was missing.
Details:  Carmen is at the Lyric Opera House, 20 N. Wacker Dr., now through April 7, 2023. It's in French with projected English titles. Running Time: 3 hours 25 minutes with 2 intermissions. For more information call (312) 827-5600 or visit lyricopera.org/carmen.
Jodie Jacobs
For more shows visit Theatre in Chicago