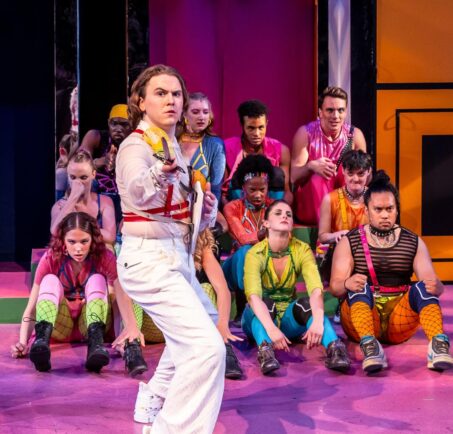 Highly Recommended
Music Theater works brings Pippin to the North Shore Center for Performing Arts in a production that is a feast for the senses and uses the entire spectrum of theater craft.
Explaining the plot of Pippin is as useful as trying to recall the details of a dream. What exactly happened is not important but the fact that your brain was trying to help you organize your thoughts and work through your anxiety is important.
But for context I'll tell you that Pippin (Connor Ripperger) who has recently completed his education in Italy is the eldest son of Charlemagne Thomas M. Shea.) Ripperger's Pippin has a longing boyish quality that is spot on.
The boy is anxious to make his way in the world but the problems in his way are stepmother Fastrada (Savannah Sinclair) and stepbrother Lewis (Andrew Freeland). They want to get rid of Pippin so Lewis will become first heir to the throne.
Though Lewis is purported to be a better warrior, Pippin sets out to prove himself in battle where he learns war is a deadly and dirty business.
Pippin's grandmother, Berte (Kathleen Puls Andrade), encourages the lad to enjoy life and have more sex. He tries but his experiences bring him little pleasure and take him no closer to a fulfilling life.
Then Pippin falls into the arms of a wealthy widow,, Catherine (Desiree Gonzalez) who has a small b oy, Theo (Di'Aire Wilson). Again the promise of a quiet and distracting domestic life is not fulfilling to the restless youth.
Ultimately, Pippin is back in Charlemagne's palace where he becomes king after the untimely death of his father. Saddened by the injustices of the world, Pippin attempts to right some wrongs but learns that the problems are more complex than they appear.
The phantasmagoric experience is orchestrated and narrated by the Leading Player (Sonia Goldberg) who promises a finale we will never forget. Goldberg has the needed commanding stage presence that lets you know she is in charge. 
The action will not have anything to do with the actual life of Charlemagne. In fact, it includes video games, tv reports and images on large screens mimicking fragments expected from a dream.
Pippin was co-written and originally directed and choreographed by Chicago native Bob fosse in 1972 at the epicenter of his successful and frenetic career. (Possibly his drug addiction might help explain this bizarre tale of how Pippin's quest for meaning plays out.) Fosse's fingerprints (or say footprints) are all over this psychedelic fever dream.
Many of the characters, notably Pippin and The Leading Player, are gloved which is a nod to Fosse's iconic "Jazz hands" and his desire to accentuate hand movements as part of dance.
This production's co-choreographers, Mollyanne Nunn and Kaitlyn Pasquinelli, got all they demanded from their talented company who kept the non-stop action energetic and entertaining.
Director Kyle A. Dougan with assistant director Patrick Tierney did an expert job wrangling the large cast of about 20 players around a limited area of the smaller North Theater in the Skokie complex.
Shane Cinal supplied the needed multilevel set design that provided additional room for movement including clever areas for unusual entrances and exits. Andrew Meyers lighting effects were key components of several scenes.
Jazmin Aurora Medina's colorful fantastical costumes, augmented by Alice Salazar's hair, wig and makeup, added the right look for the chaotic action. Charlemagne's toys sealed in plastic and his plastic crown added a subtle brilliance of detail to the array of often absurd imagery. 
The music and lyrics of Stephen Schwartz who gave us the highly acclaimed Wicked is high caliber. It doesn't have a break-out number with the possible exception of "Corner of the Sky." When performed by the Jackson Five it became #18 on Billboard.  Schwartz almost simultaneously wrote Godspell. My initial response was to characterize Pippin as The Fantastiks meets Godspell.
On the surface, Pippin seems weird and fragmented but in retrospect, the Tony Award winning musical is deeply reflective of the competitive and often, tormented mind of Fosse. In a larger context, its the reflection of us all as we strive to live more meaningful lives.
Details: Pippin, a Music Theater Works production, is at the North Shore Center for Performing Arts, 9501 Skokie Blvd., Skokie, IL ,through June 25, 2023. Running time: 2 and 1/2 hours with a 15 minute intermission. for tickets and information visit Music Theater Works or call (847) 673-6300.
Note: Though the production has an overall comedic tone it contains adult themes and language as well as allusions to sexual activity, murder and suicide so may not be appropriate for everyone.
Reno Lovison
For more shows visit Theatre in Chicago