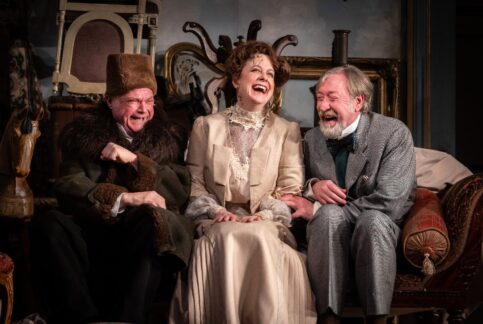 Highly Recommended
Rich and masterful, "The Cherry Orchard" serves as a triumphant curtain for Robert Falls' Goodman Theatre tenure.
If one had to choose a perfect ending for Robert Falls' three-decade career as Artistic Director at the Goodman Theatre, his production of "The Cherry Orchard" would be it.
Anton Chekhov is Falls' favorite playwright next to Shakespeare, and he purposely chose this play to close out his illustrious career.
"The Cherry Orchard" is Chekhov's final play, written before his death in 1904. It deals with a failing Russian aristocracy, love, loss, and issues of class in society.
Make no mistake, "The Cherry Orchard" is billed as a comedy through witty dialogue, fall-down laughing antics, and squeaky boots.
Yet the audience is consumed with sadness throughout the production due to memories of painful loss from the generations who lived and died on that estate.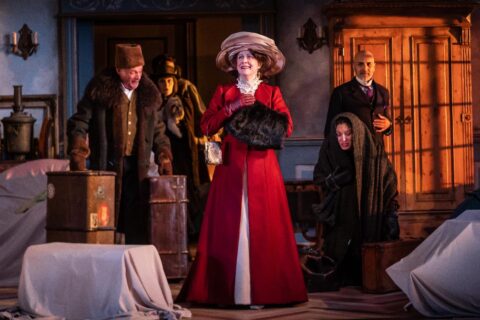 The plot revolves around widow Madame Lubov Ranevskaya who has just returned to her crumbling estate right before its auction to pay off her debts. She is lamenting the loss of her precious cherry orchard.
Her family surrounds her in support, yet they all have issues of their own.  
Chekhov's strategic use of foreshadowing is evident in many places,  letting the viewers know that something bad is about to happen.
The ending is somewhat shocking, but enriches the story and its deeper meaning.
Kate Fry as Lubov Ranyevskaya is the perfect matriarch, showcasing a variety of emotions from frivolity and joy to deep melancholy and despair as to what the future holds.  She is exuberant.
Standouts also include Janet Ulrich Brooks as Carlotta, the governess who also has a few magic tricks up her sleeve, and Stephen Cefalu as perpetual student Petya Trofimov who represents the play's moral compass of social justice.
Note the off-stage music played by the Maxwell Street Klezmer Band led by Alex Koffman, in their first collaboration with The Goodman. Their arrangements lend 19th-century authenticity and warmth to the production. 
Kudos to set designer Todd Rosenthal for his exquisite settings that move about the stage in absolute precision. Ana Kuzmanic's costumes are gorgeous, colorful when need be with themes of red, black, and ivory. Memories of these costumes will stay with you long after the show.
For more background, attend Behind the Curtain (April 22 at 4:30pm)—led by Goodman's resident dramaturg Neena Arndt. She will lead a conversation with former Goodman artistic director Robert Falls about his fresh take on the last of Chekhov's four major plays. 
Details: The Cherry Orchard" is at Goodman Theatre through April 30, 2023 in the Albert Theatre.  Running Time: 2 hours and 15 minutes with one intermission. For tickets and more information, go to GoodmanTheatre.org/Cherry or call (312) 443-3800.
Mira Temkin
For more shows visit Theatre in Chicago