You never know what you will see or find at a summer art fair. (Port Clinton-Jodie Jacobs photo)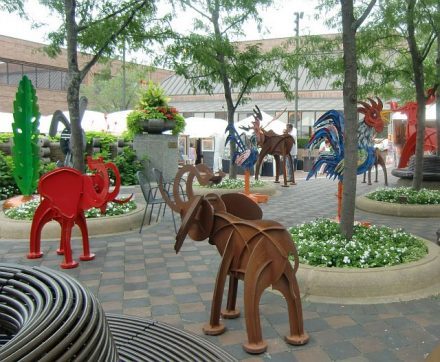 Check out some suburban shopping areas and Chicago neighborhoods while the weather is still  warm and breezy. The reward may be a painting perfect for the hall, a sculpture just right for the yard or mantle, a silk print scarf or tie to wear to a concert or a piece of jewelry to hold onto until gift giving during the holidays.
Here are some art fairs that are a good excuse to get outdoors.
August
 4-5 Glenview
Art at the Glen features 185 artists in the Glen Tower Center. Hours: 10 am – 5 pm. For more info see Amdur Productions.
11-12  Lincolnshire
About 120 artists participate in the annual Lincolnshire Art Festival held on the Village Green in north suburban Lincolnshire. Hours are 10 am – 5 pm.  For more info see Amdur Productions.
 25-26 Oak Park
On the western edge of Chicago look for more than 130 exhibitors at  the annual Oak Park Avenue-Lake Arts & Crafts Show in Scoville Park at Oak Park Avenue and Lake Street. Hours: Saturday 11 am – 7 pm , Sunday 9 am – 5 pm. For more info see American Society of Artists.
25-26 Highland Park
The Port Clinton Art Festival, among the Midwest's best art fairs, sprawls across First and Second Streets and the Port Clinton Plaza on Central Avenue as it showcases about 265 artists from across the globe. For more info see Amdur Productions.
25-26 Chicago
About 200 artists exhibit their works at the annual Bucktown Arts Fest held in Senior Citizens Memorial Park, 2300 N. Oakley Ave at 2300 W. Lyndale St. Hours: 11 am – 7 pm. For more info see Bucktownh Arts Fest. Continue reading "Good Chicago area art fairs fill the August and September calendar"