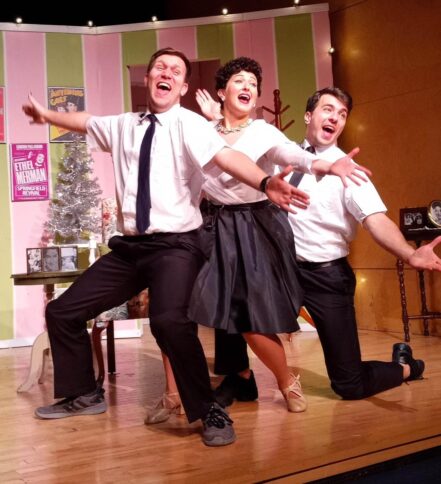 3 1/2 Stars 
Fans of the late, great Ms. Ethel Merman will love this spoof on the Broadway Diva as it comes to life at Skokie Theatre. The show has everything – memorable music, high-energy dancing, gorgeous costumes, and a heartfelt message about being true to yourself. It's no wonder the performance was sold out the night we went.
Two Mormon missionaries who are down on their luck in selling souls ring the doorbell of the brash and brassy Ethel Merman. Misunderstandings of all kinds take place and hilarity ensues.
The audience gets the benefits of fabulous show-stopping numbers belted out by the trio. But listen carefully as the lively songs with music and lyrics by Leo Schwartz and book by DC Cathro play off Merman's greatest hits; some subtle, others not so subtle, because you'll recognize this legend's most beloved music among Broadway's best.
The two Mormon missionaries are played by Alex Iacobucci as Elder Braithwaite and Danny Ferenczi as Elder Shumway who are funny and talented. They will sing and dance their way into your heart. Perhaps if start singing as soon as they ring the doorbell they will get better results!
Julie Peterson is the soul of the show as Ethel Merman. She has the same loud, booming belter voice that was Merman's trademark.
No wonder. Peterson was the understudy and performer in the role when it launched off-Broadway in 2018. She perfectly captures the mannerisms, intonations, and sassiness of the star.
Produced by Wendy Kaplan of MadKap Productions with Wayne Mell as associate producer, the show is directed and choreographed by Ty Perry. Musical direction is by pianist Jeremy Ramey and percussionist Craig Buckner who sit behind the stage.
Set design is by Scott Richardson, lighting design is by Pat Henderson and kudos once again, to costume designer Patti Halajian whose dresses for Ethel are simply dazzling.  
In Act 2, the show changes and real identities step forward giving the audience new appreciation for the characters and the show.
Concluding the season for Skokie Theatre is Neil Simon's hilarious farce, "Rumors," March 31 to April 25, 2023.
Details: "Book of Merman" is at Skokie Theatre, 7924 Lincoln Ave in downtown Skokie, IL through Feb 26, 2023. Run time: 2 hours with one intermission. For information and tickets visit SkokieTheatre.org or call (847) 677-7761.
Mira Temkin
For more shows visit Theatre in Chicago