3 Stars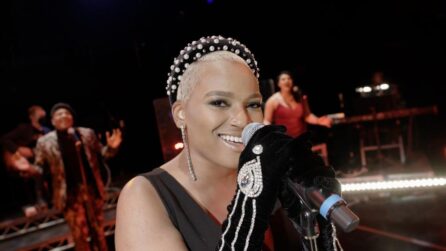 Watching Porchlight Theatre's "Chicago Sings Rock and Roll Broadway" on Youtube last night, made me realize how much I missed going to Chicago area venues for good musicals and plays.
Well-staged with superb instrumental back-up, the cast takes on the mammoth task of covering musicals through the decades from "Bye Bye Birdie" and "Hair" in the 1960s and "The Wiz" and "Promises Promises" in the 1970s  to more recent shows such as "Kinky Boots," "Waitress," "Beautiful"  and "Head over Heels."
Past benefit concerts were, among others, covers from Disney, Stephen Sondheim, The Beatles and Motown.
Choosing a song or a couple of stanzas from each show, their theme this year is Rock and Roll but not all music chosen fall in that genre. So, if deciding to tune in to support local artists, Porchlight and, just as important, the theatre's education arm to area youth, don't worry if your ear prefers other musical genres.
The benefit is fun to watch and hear because the music ranges from standards to lesser- known songs. You are bound to find a favorite performance. Among mine was Sawyer Smith's magnificent take on "Wig in a Box" from "Hedwig & the Angry Inch, (1998).
A virtual event that can be viewed through April 18, 2021, Chicago Sings is a fundraiser similar to the broadcasts that have aired since COVID shuttered arts and entertainment venues a year ago, except this event brings the cast and musicians together.
It also includes the presentation of the 2021 Guy Adkins award for "excellence in the advancement of music theatre" to Felicia P. Fields and greetings from several Broadway stars including E. Faye Butler and Sean Allan Krill.
Porchlight Theatre's "Chicago Sings Rock and Roll Broadway is on YouTube through April 18, 2021. Tickets are $25. Running time is about 90 minutes. For  tickets see Porchlight and for information visit  Porchlight Music Theatre.
Jodie Jacobs