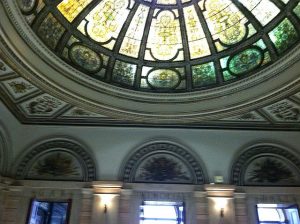 You know Chicago's heart beats in time to jazz, blues and ragtime and turns dramatic with modern gospel. So a new exhibit, starting this weekend at the Chicago Cultural Center, that brings back the history of the city's music legacy is an exciting event.
Up north in Glencoe, an important exhibit is going up next weekend at the Chicago Botanic Garden. It paints eye-catching, environmentally-driven botanical stories.
Also next weekend, a world renown painter's disturbing views of the human condition opens at the Art Institute of Chicago.
Then, another picture of life in Chicago, the good, the bad, the real, opens the following weekend at AIC.
"Bronzeville Echoes: Faces and Places of Chicago's African American Music"
Located in the Chicago Cultural Center's Garland and Landmark Chicago Galleries, "Bronzeville Echoes" is filled with such artifacts as 1920s records, old sheet music and even a telephone booth. Up April 28, 2018 through Jan. 6, 2019,the exhibit is an excellent way to become acquainted with the city's musical history. Presented by the Department of Cultural Affairs and Special Events, entry is free. The Chicago Cultural Center is at 78 E. Washington St. BTW The building itself is worth a visit. For more information visit DCASE Events.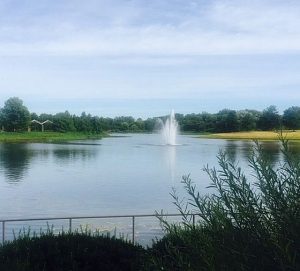 "Against Forgetting"
The show is a non-forgettable statement by Santa Barbara-based artist Penelope Gottlieb on what is happening in the plant world. The works, representative of the three groups: Extinct Botanicals, Vanishing Series, and Invasive Series, range from vibrant to reflective. The exhibit is up in the Joutras Gallery in Chicago Botanical Garden's Regenstein Center, May 4 to Aug. 12, 2018. The Chicago Botanic Garden is at 1000 Lake Cook Rd., Glencoe. Entry to the Garden is free but there is a parking charge. For more information visit CBG Exhibitions.
"Ivan Albright"
A retrospective of this Chicago native known for his nightmarish paintings will be at the Art Institute of Chicago's Gallery 273, May 4 through Aug. 5, 2018. Considered controversial, fascinating and macabre, his works made him the perfect artist to have painted "The Picture of Dorian Gray" for the 1945 movie. For more information visit Albright.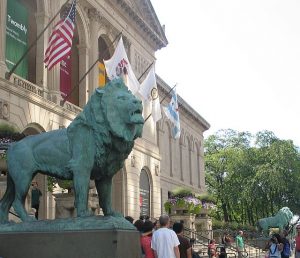 "Never a Lovely So Real: Photography and Film in Chicago 1950-1980"
The exhibit, whose title was taken from a Nelson Algren description of the city in Chicago: City on the Make, opens May 12 at the Art Institute of Chicago. Up in Galleries 1-4, the show reveals different sides of city during the second half of the 20th century. "Never a Lovely So Real" is part of Art Design Chicago sponsored by the Terra Foundation for American Art and the Richard H. Driehaus Foundation. It runs through Oct. 28, 2018. The museum's admission is fee based with some free days and times. The Art Institute of Chicago is at 111 N. Michigan Ave.. For more information  visit ARTIC/exhibition.
Enjoy!
Jodie