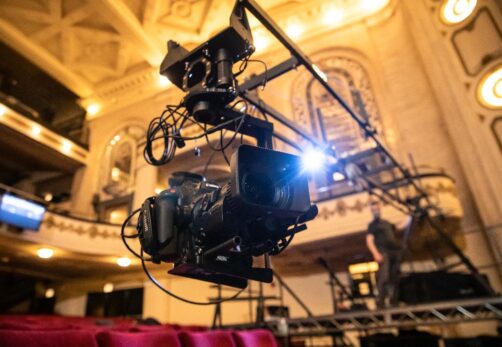 Hear the word Valhalla, and Norse mythology and Germanic tales come to mind or if an opera buff it is Wagner's Ring cycle with Brünnhilde intoning the famed Valkyrie role. But to the Chicago Opera Theater and the Met Guild in New York City when the word Media is added to Valhalla it refers to the talented company that is bringing COT's current productions and a Met Guild Masterclass to viewers during the pandemic.
During this past year of arts and entertainment venues closing their doors and turning to streaming live or taped programs just to stay in the public's consciousness and keep some revenue streams flowing, putting productions on digitally is different but not a surprise. What may arguably surprise the A&E groups who use and may contact them is that Valhalla Media is two opera singers: Alexandra "Lexi" LoBianco and Nikolas "Nik" Wenzel.
To the Lyric Opera of Chicago, LoBianco is the talented soprano who is a frequent guest artist and in demand at opera houses around the world, and Wenzel is a talented bass member of the Lyric Chorus.
So why did two well-regarded opera singers form a company that live streams opera and concerts? And why the name Valhalla?
"You might thing that because Nik and I sing Wagner that it would be the reason. However, this name goes beyond our singing and into so much more," said LoBianco.
"When we picked Valhalla Media one of the main reasons was because in order to gain access to Valhalla, you must cross the rainbow bridge. Inclusion was at the heart of why we chose the name. The image of Valhalla being a place where everyone was included and that we strive to make the best choices to support organizations that champion diversity was at our core," she said.
They started the company in 2020 when appearance contracts were canceled and, as LoBianco said, "the rug was pulled out from under the classical music community."
The idea was to mount their own productions which they did in the Studebaker Theater in Chicago's historic Fine Arts Building. They started with a recital for Will Liverman with pianist Paul Sanchez on June 26 that showcased African-American composers' and a debut Shawn Okpebholo's new work followed on June 27 by  Humperdinck's Hansel and Gretel Live in Concert.
"Our first production was one of the very first truly live digital broadcasts that weekend, nothing taped. We had Will and his pianist on stage," said LoBianco.
They pulled in Southern Illinois University Journalism Director Jan Thompson who is known for documentaries to work with them as video director.
"She called the shots. The bulk of her professional career is doing live and classical music. She can break down a score to know when  and what shots to do," said LoBianco.
She recalled that they had a "decent turnout" of viewers thanks to friends and social media. "Then opera companies saw and heard about us," she said.
That included Chicago Opera Theater. "They said they'd like to work with us to help make their season happen," said LoBianco.
The recording and staging was at the Studebaker which LoBianco and Wenzel like. "The sound there is good. Sound is an important part of opera, she said."
Among the COT shows are The Transformation of Jane Doe, Sept. 15, 2020 and most recently the Midwest premiere of Taking Up Serpents, Feb. 27, 2021.
Currently they are working on The Puppy Episode for March 20 followed by La Hija De Rappaccini for April 24, 2021.
Some of those productions are part of COT's Vanguard initiative for developing new operas and encouraging operatic composers. Others are a regular part of what the 2020-2021 season was supposed to have.
COT's General Director Ashley Magnus said, "Streaming productions has worked well for us this season, allowing us to produce in a year when no live audience is possible, and expanding our reach outside of Chicago."
"We are thrilled to be working with COT for the season," LoBianco said.
Valhala Media will shortly be going over to NYC to work with the Met Guild to do a Masterclass with countertenor Anthony Roth Costanzo to happen April 22.
"While I wish we could continue to produce our own content, which we plan to in the future, we are immensely grateful to be able to provide the digital backbone through our platform and for the film & audio portion of this new, crazy world.," said LoBianco.
Talking with the pair by phone from their home in Park Ridge, IL the two partners in work and life explained they both had back stage theater experience so knew it takes more than a fine voice to make a production work.
"Nik and I both come from tech theater backgrounds. We came to this (forming Walhala Media) with the understanding it take more than the singer to put on a production. I've been a stage hand and so was Nik."
Wenzel  added, "Alexandra and I talked about forming our own company even before COVID hit. We always had a passion for classical music, and the tech background that comes with that. We're familiar with every aspect of production."
However, they still plan to continue in their chosen field of performing.
"I love my job with the Lyric.  I have a contract for 25-30 weeks," said Wenzel
In spite of all the rave reviews and the demand for her in a wide range of roles LoBianco said, "I'm humbled by the amount of work I have. I'm very lucky."
She added, "We love what we do."
Jodie Jacobs