HIGHLY RECOMMENDED
If lucky enough to still snag a ticket to the Lyric Opera's 'Les Troyens' (The Trojans), Hector Berlioz' grand opera tribute to Virgil's Aeneid, don't worry about its length.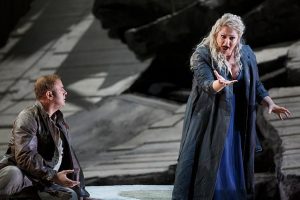 Berlioz's music, grandly interpreted by Lyric Music Director Sir Andrew Davis, sweeps through the Lyric's hall like a waterfall that fascinates and pulsates with danger.
Add to that, the incredible vocals by Christine Goerke as Trojan Princess Cassandra, Susan Graham as Carthage Queen Dido, Brandon Jovanovich as Trojan hero Aeneas (Énée) and Lucas Meachem as Cassandra's lover, Chorebus, and the opera has transcended from a good experience to become a once-in-a-lifetime event.