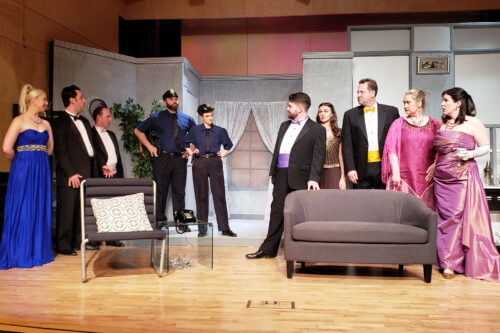 Highly Recommended
 The "Rumors" Are True…Skokie Theatre's Neil Simon Farce is a Smash Hit!
In the years before social media was a "thing," local gossip was the way to go. How else could people gauge the real social order? Who was cheating on whom?  What was true and what was just a rumor?
Add in that when several people are also politically involved with something to lose if the truth gets out you've got real mayhem – or "Rumors," a hilarious farce from the master of American comedy, Neil Simon.
Welcome to an upscale dinner party hosted by a wealthy New York couple who are celebrating their 10th wedding anniversary. Unfortunately, the party goes terribly wrong.
Guests arrive to discover the host has been shot, the hostess is missing, and the servants have quit.
Produced in 1988, "Rumors" still holds the same caustic bite as when it first came out. The brilliant, fast-paced dialog gives all the actors a chance to shine.
The play stars Erin Renee Baumrucker, Landon Cally, Luke Coleman, Peter Goldsmith, Julie Peterson, Maddy Shilts, Nathan Dale Short, SarahAnn Sutter, Katherine Wettermann, and Lee Wichman.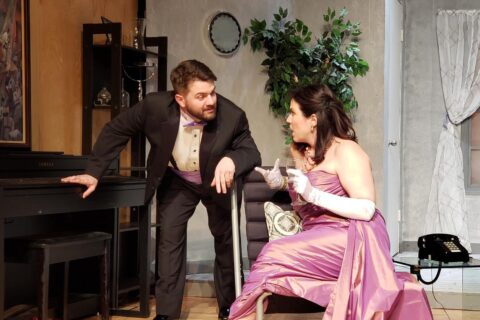 Standouts include Peterson as Claire Ganz who recently appeared as Ethel Merman in the "Book of Merman" at Skokie Theatre. She is a bubblehead with lots of great lines that keep the audience in stitches
Cally as Lenny Ganz plays a range of emotions. In his final monologue. he makes up an entire story of what really happened to the hosts, Charley and Myra and his performance is stellar.
Kudos to Police Officer Welch, played by Shilts, as no-nonsense in law enforcement as they come.
Directed by Wayne Mell and produced by Wendy Kaplan of MadKap Productions, "Rumors" takes the audience on a hysterical romp through a case of mistaken identity, the constant opening and closing of doors, and a little bit of slapstick thrown in. 
The women's costumes, headed by custom designer Wendy Kaplan and wardrobe mistress Patti Halajian, are exquisite and elegant. How lucky, the actresses get to wear them all night long.
Details:  Rumors is playing at the Skokie Theatre, 7924 Lincoln Avenue in Downtown Skokie through April 23. Running time: 2 and a half hours with one 15-minute intermission. For tickets, go to skokietheatre.org or call 847-677-7761. The 2023-24 season starts in June with "Hair."
Mira Temkin
For more shows visit Theatre in Chicago