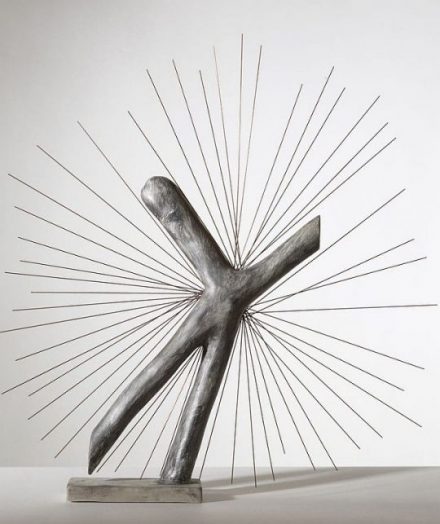 When seeing a picture of "Tools and Toys III, 2014, an eye-sculpture sculpture by Italian-born, London-based artist Enrico David, I imagined it was life-sized.  But upon going through the David exhibit, now up at the Museum of Contemporary Art Chicago, I found it to be 23 ¼ in. by 20 1/3 in. by 3 in., thus small compared to several other works in the gallery. But it was definitely significant.
"Tools and Toys III" is a human figure of jesmonite and graphite that is slightly a tilt, but with copper prongs radiating out in all directions as a field of energy.
As seen by the figures that filled the exhibition, David found a variety of choices for artistic and emotional expression in the human body, sometimes elongated, sometimes partnering with other humans and sometimes as unusual variations of the head. But in "Tools" the figure appears mystical.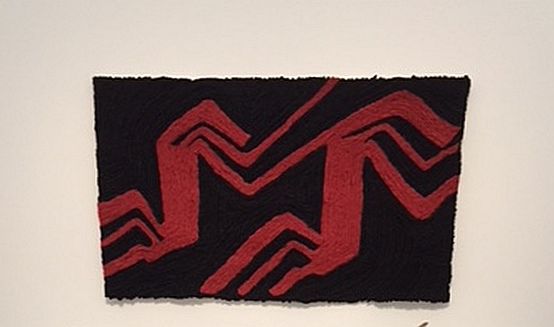 The large wool on canvas work, "Untitled" Ombre Rosse), 2017, appears to also have either mystical or primeval figures.
Indeed, many of David's works seem to be either tortured figures or antiquities found in caves or dug in ruins such as "Fortress Shadow" 2014 of jesmonite and patinated steel.
In some cases they may be one figure that has been replicated as if rising such as "The Assuumption of Weee" 2014 or "Ploud Mary"2014 whose figure of celotex, jesomonite, glass fiber and copper has been divided into multiple parts and turned on its side.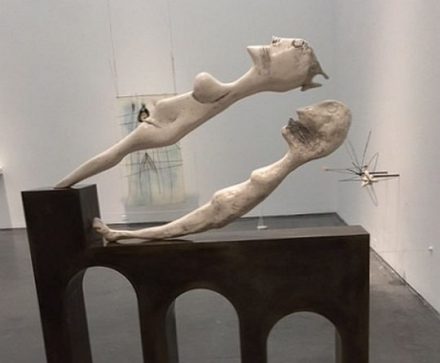 "I've been following his career for years," said MCA Chief Curator Michael Darling. "I felt it was the time to do a survey of his work. This is the first large survey of Enrico David in the United States," Darling said.
I agree. His works are in the collections of the Tate Modern, Hirshorn Museujm and sculpture Garden, Hammer Museum and the MCA but deserve to be more widely known.
DETAILS:  "Enrico David, Gradations of Slow Realease" is at the Museum of Contemporary Art Chicago, 220 E. Chicago Ave. through March 10, 2019. For museum hours and admission  call (312) 280-2660 and visit MCAChicago.
Jodie Jacobs