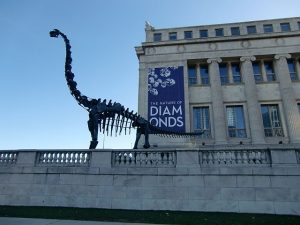 Say T-Rex around the Chicago area and chances are the response will be Sue at the Field Museum.
However, beginning May 26 Field visitors can get almost within a ferocious T Rex's drooling distance one floor down from where Sue resides.
The Tyrannosaurus rex is caged in a large tent outside the museum's east, ground level entrance where its neighbors (never mind different time periods) include a Velociraptor, Brachiosraurus, Stegosaurus and other dinos and even a lab where dinosaur eggs are cultivated and embryonic dinosaurs are incubated.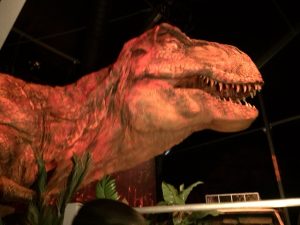 They are cavorting in "Jurassic World: The Exhibition," a traveling production put together by Universal Brand Development and Imagine Exhibitions and co-produced by MagicSpace and IES. The Field is the third stop on a tour that began in Melbourne, Australia followed by the Franklin Institute in Philadelphia, PA.
Designed by The Creature Technology Company, the animatronics dinosaurs' roars paired with sudden neck swivels and gazes frightened a couple of tots during the preview May 24 but most children there were fascinated.
"Cool," "great" and "liked it, were just some of the comments overheard walking through the exhibit. But an area where budding paleontologists spent more time was a lab mock-up that had fossils, specimen props and a map of "hot" fossil digs.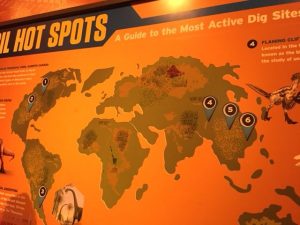 The map shows digs in United States and all over the world. BTW, Sue was discovered by paleontologist Sue Hendrickson in western South Dakota in 1990.
If the fun Jurassic exhibition whets appetites for more dinosaur info visitors should go up one level to see Sue by the north entrance of the Great Hall, then to the upper level to walk through four billion years of life on Earth in Evolving Planet. It includes outstanding recreations of dinosaurs.
"One of our goals as a museum is to provide visitors with the best dinosaur experience in the world," said Field Museum President Richard Lariviere. "Our fossil collections are one of the greatest things about the Field Museum and the Jurassic Wold dinosaurs are an incredible way to spark our imaginations about them," said Lariviere.
If interested in the next movie in the Jurassic World franchise, it currently is scheduled to be released June 2018 and star Chris Pratt and Bryce Dallas Howard.
"Jurassic World: The Exhibition", is at The Field Museum, 1400 S. Lake Shore Drive, Chicago, May 26, 2017 through Jan. 7, 2018. For exhibit tickets information call (312)665-7959. For general admission information call (312) 922-9410. Visit Jurassic or The Field.