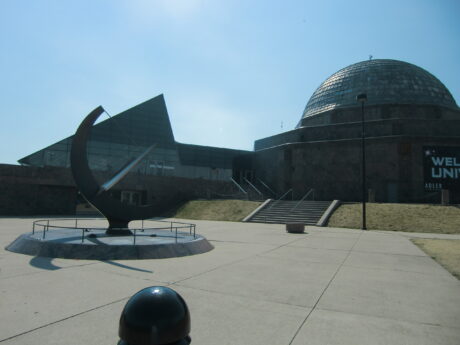 Chicago and some area schools are on Spring Vacation through April 17.  But even if your youngsters' schools already had their break, terrific exhibits at Chicago's museums are worth a weekend visit.
Fortunately, there are some free museums, free days and free to certain ages deals that can make a Spring Break outing less of a budget breaker. Most museum no longer require masks or vaccination proof but they do require advance tickets. However check the museum website for its current requirements.
For example of "free," the National Museum of Mexican Art is always free. Located in the city's Pilsen neighborhood at 1852 W. 19th St., the museum is currently featuring Freda Kahlo photos. But it is always filled with colorful and interesting galleries. Visit National Museum of Mexican Art for entry information. It is currently asking for masks and social distancing.
Also, the Illinois Holocaust Museum  at 9603 Woods Dr., Skokie has a promo code "SPRING 22" that is good for free admission to children and students through April 17, 2022. The museum is also free to all the last Friday of each month.
Check out the following museums for more ideas and cost saving deals:
Chicago Museum Campus
After closing for two years due to covid, the Adler Planetarium at 1300 S. DuSable Lake Shore Dr. at the east end of the Museum campus, recently reopened with more interactive exhibits and reconfigured spaces. The museum is free Wednesdays from 4 to 10 p.m. Among the fun, family-friendly spaces is the Clark Family Welcome Gallery with video presentations, interactive motion-sensing displays and pop-up exhibitions. Chicago's Night Sky is also worth experiencing.
The Field Museum, at 1400 S. DuSable Lake Shore Dr. at the front end of the campus, has its free admission days May 14-15 and discounts the Discovery and all Access Pass those days so cost to Illinois residents would be $16 adult and $14 ages 3-11. Known for its dinosaur halls, The Field has gone further by going underwater to find giant species in its new temporary exhibit, Jurassic Oceans: Monsters of the Deep.  Up through Sept, 5, 2022, this special exhibit needs a Discovery Pass or All Access Pass but there is plenty to see with General Admission.
Shedd Aquarium, at 1200 S. DuSable Lake Shore Dr., sits in the center of the Museum campus. The museum had free days earlier in the year but if living in Chicago find reduced fares through the Chicago Public Library: Kids Museum Passport.
Hyde Park Neighborhood
Museum of Science and Industry at 5700 S. DuSable Lake Shore Dr. has free days coming April 21 and 25 and May 2, 4, 9, 17 and 18. MSI, as the museum is usually known, can fill a day without its special exhibits but it currently has the blockbuster Art of the Brick, an amazing  sculpture collection of LEGO Art that is up through Sept. 5, 2022. An extra ticket is needed but the display is worth the cost.
The DuSable Museum of African American History  at 740 E. 56th PL, is celebrating 61 years as the country's oldest independent African American Museum currently has free admission for all every Wednesday. Masks are  required for ages 5 and older. Among the exhibits are "Freedom: Origin and Journey" which looks at several key periods in African American history and South Side Stories such as "The Art and Influence of Dr. Margaret T. Burroughs, 1960–1980." It looks at Burroughs's "legacy as an artist, creator, activist and institution builder."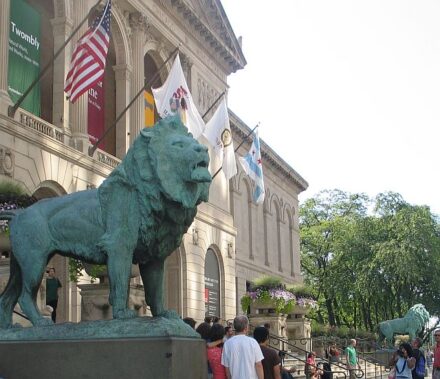 Art Museums
Art Institute of Chicago, has a main entrances at 111 S. Michigan Ave. and around the corner at 159 W. Monroe St.  to its Modern Wing (connected to the main building). It is free to Chicago teens under 18 and all youngsters  under 14. Frequent AIC visitors have favorite galleries such as French Renaissance and the Thorne Rooms (miniature periods). The current exhibit is "Life and Afterlife in Egypt," an impressive, recently re-done permanent display of items already held by the museum.
Museum of Contemporary Art, 220 E. Chicago Ave. is free to visitors under age 18 and Illinois residents receive free admission every Tuesday. Visitors who enjoy debating what is art and what does it illustrate should see "Based on a True Story." Using items mostly owned by the museum, it puts together the works of 20 artists who "play with fact, fiction, and the grey areas between" that "wrestle with truth and belief by exploring fiction."
Lincoln Park Neighborhood
Chicago History Museum at 1601 N. Clark St. is on the edge of the park. Check out its "Crossroads of America" which includes stepping aboard a fancy, old train car. Also up is an exhibit of women's voting struggles and items from the museum's Costume Collection. The museum is free is Illinois teens under age 18 and all children under age 12.
Peggy Notebaert Nature Museum at 2430 N. Cannon Dr., is a Chicago Academy of Sciences museum that is also on the edge of the park. Come here to see, walk among and learn about butterflies. Exhibits also include climate change, weather and rivers.
Jodie Jacobs