Leonard Bernstein's genius for capturing the soul of America in everything from orchestral works, opera and religious tributes to musicals, ballets, choral pieces and songs for events, is being celebrated at venues throughout the world in honor of his 100th birthday.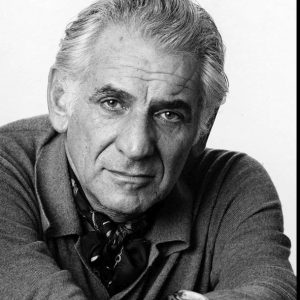 Musical tributes began on what would have been his 99th birthday, Aug. 25, 2017 (he died in 1990) but formally kicked off with a program at Washington D.C.'s Kennedy Center, Sept. 22, 2017. The celebrations are continuing through his 100th year.
What the Lyric Opera of Chicago is doing promises to be exceptional.
Opera stars mezzo-soprano Susan Graham and baritone Nathan Gunn take on the roles of unhappy suburban couple, Dinah and Sam in Bernstein's one-act opera ,"Trouble in Tahiti."  The opera's jazz interlude is done by Ryan Opera center ensemble members Diana Newman, Josh Lovell and Emmett O'Hanlon.
They and Broadway star Kate Baldwin plus other artists will sing numbers from shows Bernstein did such as "West Side Story," "Candide," "Peter Pan," "Wonderful Town" and "White House Cantata" (Originally titled "1600 Pennsylvania Avenue" written with Alan Jay Lerner) and other songs.
There might be a song from "Songfest," commissioned to celebrate America's 1976 Bicentennial. Based on poems, it could be "To What You Said" (Walt Whitman). It is about love for another time and conflicted sexuality. Another program possibility is "So Pretty," a 1968 anti-war song, Bernstein wrote with lyrics by Betty Comden and Adolph Green. Composed for a Broadway for Peace fundraiser at Lincoln Center, it was sung by Barbra Streisand.
"I think it will be revelatory," said Lyric dramaturg Roger Pines during a recent interview.
"We have Nathan Gunn so we can do "Captain Hook's Soliloquy," It's a tour de force. He as the right voice for it," said Pines. "It was not sung in the original Broadway show (April, 24 1950) because Boris Karloff was Captain Hook (and also George Darling).
(Note: Bernstein wrote the music and lyrics as a complete score but only a few of the songs were included in the original staging, supposedly because of the leads' limited musical range.)
The first half of Lyric's program will be the opera which is sung in English. Pines notes that even though it was written and staged in the early 1950s, "Tahiti's" marital communication problems are more universal then applicable to one time period.
"Couples now can relate to the problems in their own relationship," Pines said. He also thought people would appreciate Graham's aria in her analyst's office and the one she sings after leaving a horrible movie. "It's comic," he said.
As to the second half, Pines said it was important to introduce the wide variety of Bernstein's music and how it was reflecting events. "Bernstein was so multi-faceted we do not have time to explore every side. But I think it is a good way to see that his music is extremely varied, and its quality."
DETAILS: Celebrating 100 years of Bernstein, March 10, 7:30 p.m. at the Lyric Opera, 20 N. Wacker Drive, Chicago. For tickets and other information call (312) 827-5600 and visit Lyric Opera.
Jodie Jacobs