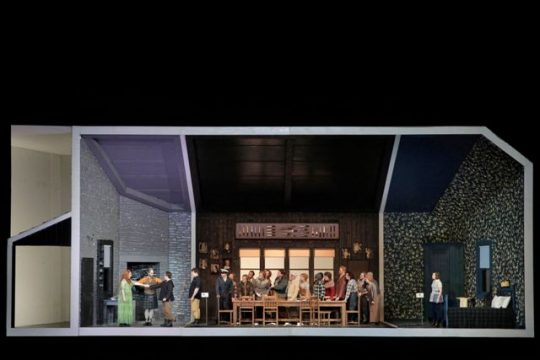 4 Stars
The Lyric Opera's "Ariodante" by George Frideric Handel (of "Messiah" fame) satisfies the sensibilities of a modern audience.
The storyline of this eighteenth century Baroque opera has elements familiar to a twenty-first century TV audience including love, sex, drugs, infidelity, deception and a missing person. Oh! and puppets.
The plot-line would benefit from a chart. But essentially, Ginevra and Ariodante are in love and soon to be married, however, the villainous Polinesso is also in love with Ginevra who incidentally, can't stand the sight of him.
Meanwhile, Ariodante's brother, Lurcanio, loves Ginevra's maid, Dalinda, but she is in love with Polinesso who eventually sees her as a potential willing accomplice to his evil deeds.
Opening night included an additional surprise element in the person of Julie Miller who stepped in at the last moment to replace Alice Coote, suffering with the flu, in the title role of Ariodante.
The role of Ariodante was written by Handel for castrato but played here by mezzo-soprano. Additionally the role of Polinesso written in an alto range is performed here by counter-tenor Iestyn Davies.
The mix of male characters singing in what would traditionally be viewed as female vocal ranges gives the production a contemporary non-binary casting quality which further plays well today, as do the themes of male dominance in the era of "Me Too."
You will notice that the music is comprised of nearly all individual arias with no big chorus numbers and therefore has a comparatively small cast.
Soprano Brenda Rae in her Lyric debut plays the beautiful Ginevra.  Soprano Heidi Stober is the conflicted and manipulated Dalinda, while the role of the passionate Lurcanio features tenor Eric Ferring.
Handel's score is beautifully melodic and of course performed superbly by the Lyric orchestra conducted by Harry Bicket with the addition of Mark Shuldiner, harpsichord and David Walker, theorbo.
The vocal ornamentation which is a hallmark of the baroque style is oft lambasted and lampooned by comedians as an arcane and outdated affectation but should be appreciated as an art form not unlike rap or jazz that experiments with the possibilities of melody and vocalization. In this way it can be seen as quite modern, even avant-garde.
First performed in 1735 at Covent Garden, in London, the setting was Edinburgh Scotland.
In this modern revival directed by Benjamin Davis the setting is said to be a remote Scottish Island circa 1960s which comes across a bit like a hunting cabin in Minnesota, but not in a bad way.
The primary suggestion of Scotland is the kilt worn by Ginevra's father, the King of Scotland, bass-baritone Kyle Ketelsen that also added to the sort of gender bending quality.
Dominated by a very long table, center stage, the set design by Ultz is closed in on the top and both side walls creating an exaggerated deep perspective shadow box effect reminiscent of DaVinci's "Last Supper."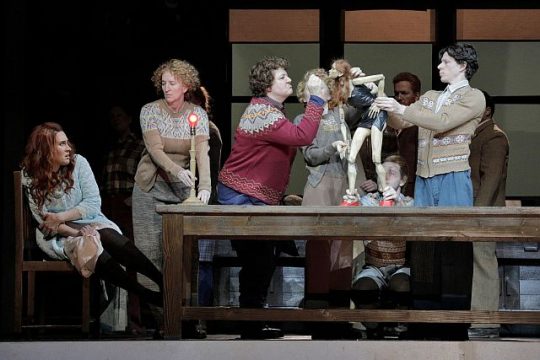 This is further enhanced by Mimi Jordan Sherin's flat lighting that casts minimal shadows giving the visual an interesting two dimensional quality.
Adding a bit of charm and whimsy, the original dance numbers are replaced here by three short puppet shows expertly performed on the center table by puppeteers Kate Colebrook, Sam Clark, Tommy Luther and John Trindle.
The story lines of operas are typically pretty shallow and this one borders on melodrama which even elicited much deserved complimentary "boos" and "hisses" at the curtain call for the villain Polinesso.
If this were filmed in a flickery black- and-white the production would be right at home in a nickelodeon.
I am sure the somewhat over-the-top and even at times, bawdy aspects of the story, played well to a pompous, Georgian period, upper-crust audience who would likely have seen this as titillatingly scandalous and a rebuke of the somewhat barbarous provincials in the era of an emerging Evangelical Protestant movement and rise of urbanization.
Davis' version is a bit more graphic and provides a slightly less traditional, happily-ever-after ending. But through the experience we cross a couple of centuries to see that human nature and human interaction do not change all that much.
DETAILS: "Ariodante" is at The Lyric Opera of Chicago, Civic Opera House, 20 N. Wacker Drive, Chicago, through March 17, 2019. Running time is about 4 hours with two 25 minute intermissions. For tickets and other information call (312) 827-5600 and visit Lyric Opera.
Reno Lovison
For more shows visit Theatre in Chicago