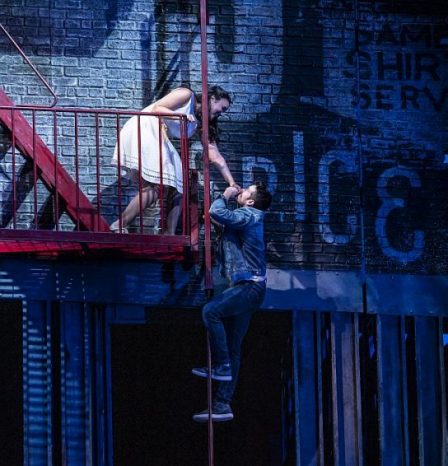 3 1/2 stars
If you go to see "West Side Story," now at the Lyric Opera through June 2, 2019, you are likely to think about how culture clashes have changed or not since Leonard Bernstein wrote the show's dramatically descriptive music, Stephen Sondheim did the very memorable lyrics, Arthur Laurents penned the book based on William Shakespeare's "Romeo and Juliet" and Jerome Robbins directed and choreographed it.
When West Side Story opened as a Broadway musical in 1957 it received six Tony nominations including Best Musical but a feel good show, "Music Man," won the Tony Award for Best Musical. "West Side Story" was not meant to make audiences happy. Even the show's single funny scene/song "Gee, Officer Krupke" sung by the Jets pinpoints societal problems.
Anyone who reads Shakespeare's tragedies, knows the Bard is very good at portraying motivations and clashes.
If you know your Shakespeare, you will find some similarities between the "Romeo and Juliet " of the 1590's and Broadway musical of the 1950s.
The balcony scene is there but instead of the Capulet's garden, it is the back of the tenement where Maria and her Puerto Rican family live. The gorgeous, concert-quality voice of Mikaela Bennett) as Maria paired with the fine voice of Corey Cott, an experienced Broadway performer, as Tony, makes their duet of "Tonight" a show highlight.
Francesca Zambello's insightful direction of another tender scene, the going through the motions of a marriage ceremony in the dress shop where Maria worked, made "One Hand, One Heart," another highlight for me. And yes, it is reminiscent of the Romeo and Juliet's marriage by Friar Laurence.
Usually, the song, "Somewhere (there's a place for us)," well sung by Bennett in the show has me in tears. Not so, opening night. This may be because I was distracted by the dancers.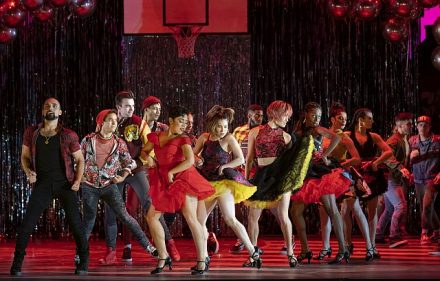 The only problem I had with any of the show's vocals was "America" sung by Anita (Amanda Castro) and her fellow shark girls. They had the dance moves. But possibly due to an effort to stay true to an accent, it was difficult to catch all the lyrics, which is really too bad because they are clever.
Lyric still has a thing about moving set pieces on stage using stage hands in black that make the scene transitions not quite seamless. But Peter J. Davison's set design is excellent because even though pieces of the action change from a school dance to a drug store and dress shop, the primary set of a somewhat seedy, New York City neighborhood looms in place throughout the show and coloring its action.
The musical is more appropriate than audiences might think. Not just because of its messages but also because from Aug. 25, 2017 when Bernstein would have turned 99, through August 25, 2019, orchestras, opera houses including the Lyric, are celebrating this amazing composer, humanitarian, conductor, musician's 100th anniversary.
So go because "West Side Story" is a musical masterpiece and the Lyric Opera, working with Houston Grand Opera and Glimmerglass Festival, have produced a show to remember.
DETAILS: "West Side Story" is at Lyric Opera, 20 N. Wacker Drive, Chicago, through June 2, 2019. Running time: 2 hrs, 25 minutes with one intermission. For tickets and other information call (312) 332-2244 and visit Lyric Opera/West Side Story.
Jodie Jacobs
For more shows visit Theatre in Chicago