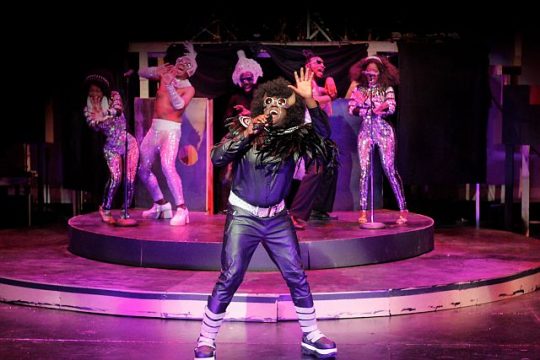 2.5 stars
"You Can't Fake the Funk (A Journey Through Funk Music)" presented by Chicago's Black Ensemble Theater works hard to "turn this mutha out."
"There's a whole lot of rhythm goin' round" in this energetic performance written and directed by the company's own producing and managing director, Daryl D. Brooks.
The journey through the history of funk is hosted by Dwight Neal as Dr. Funk and takes place aboard the "Mothership," an allusion to  George Clinton and the Parliament Funkadelic's 1975 platinum album "Mothership Connection."
Clinton actually incorporated a spaceship as part of the scenery into his concerts but BET's homage does not do it justice and Denise Karczewski's lighting didn't do too much to help, particularly if you consider the lighting effects prominent in the disco style shows of this time.
The pedantic lecture that serves as the story line is basically uninspired and appears to be one of those times when a seemingly good idea may not be as good as it initially sounds.
It might have been better if Brooks abandoned ship and found another device to tie these songs together.
Neal makes a heroic attempt to get this rocket off the ground but ultimately the mothership concept is like a forced joke that goes on too long and in the end seemed like "You Dropped the Bomb on Me."
In spite of the weak script, Brooks wants us to party and the music makes this journey worth the trip, after all F.U.N.K. is mostly F.U.N.
James Brown is largely credited with the origination of the funk sound that features a prominent bass line, with minimum melody and a slower sexier rhythm that emphasizes the down beat.
The addition of horns by a number of funk groups adds a level of jazz-like sophistication to this basic formula, especially in many of the earlier songs. Also the use of electronic effects and distortion especially on the guitar and vocals pushes the envelope suggesting a futuristic vibe.
Drummer and musical director Robert Reddrick with his super funky ensemble of six musicians and a cast of ten talented singer/dancers helped us find our groove.
They got us "Soul Clappin'" to the funkilicious sounds of the 1970's and beyond with tunes like "FIRE" made popular by the Ohio Players, The Commodores "Brick House," and finishing up the first act with most of the audience on its feet singing along to "September" by Earth, Wind and Fire.
Designer Rueben Echoles got the cast looking "Superfly" with "Skintight" costumes and platform shoes while choreographer Christopher Chase Carter hustled up a variety of entertaining dance moves.
This is not a great theatrical event. But it is an entertaining show-lounge style cabaret performance that will be thoroughly enjoyable for those looking to experience it as a nostalgic revue.
It should be enlightening for those who did not live through the era but who may recognize many of the blockbuster hits that have found their way into the general lexicon of American pop music classics.
"Word up," so even if you're not a "Superfreak" you won't feel like you got the "Shaft" as this funky production lights up the finale with George Clinton's Funkadelic "Flashlight."
This show is something of a "Love Rollercoaster" but I say "Let's Groove" and give this 2.5 stars for a Somewhat Recommend.
DETAILS: "You Can't Fake the Funk" (A Journey Through Funk Music) is at Black Ensemble Theater, 4450 N. Clark Street, Chicago, through Sep. 8, 2019. Running time is about two hours with one intermission. For tickets and information call (773)769-4451 or visit BlackEnsempleTheater.
Reno Lovison
For more shows visit Theatre in Chicago