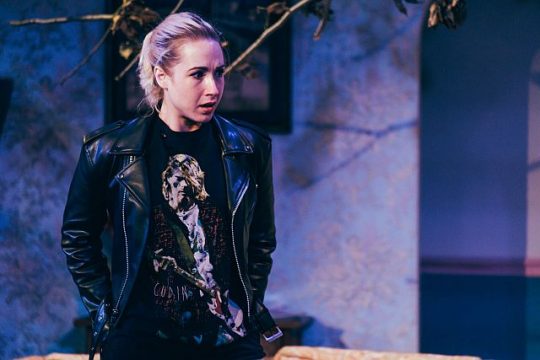 4 stars
Glass Apple Theatre is presenting the world premiere of "Shadows of Birds" written by Richard James Zieman and Joel Z. Cornfield.
It focuses on a young adult woman, Nicole (Tara Bouldrey), who's been in  rehab for months because of her addiction to drugs. But now Nicole's counselor, Jennifer (Sydney Genco), feels Nicole is ready to return home and live with her mother, Barbara (Elizabeth Rude).
Her mother also has an older adult son, Kyle (Bobby Bowman). Neither Kyle nor Nicole knew their father because he left when their mother was pregnant.
Because of Nicole's many years of mixed messages from her mother and brother, she was very insecure and became a drug addict. Now Nicole isn't sure that she could live with her mother again.
However, after many months in therapy she stops at home and asks her mother to look forward to a new start. Her mother apologizes and says, "I didn't do enough for you, and I need you to forgive me."
Unfortunately, Kyle and Nicole start arguing because he doesn't think that living there would be the right thing for his sister to do.
Even though the mother and daughter both say that they love each other, Nicole relapses to her medical problems. However, she is hopeful she will overcome her weakness.
The show is well acted  with the fabulous cast including Nicole's Aunt Susan (Lori Lee) and Nicole's new therapist, Fayth (Nevada Montgomery).
Zieman and Cornfield's dialogue is extremely thought-provoking, timely and interesting.  It is well directed by Cheryl Snodgrass with excellent staging.
A note about this production company: Brian McKnight is the artistic director of Glass Apple Theatre, Ltd. which teaches and develops interest in the dramatic arts. It is also an outlet for community discussion and education.
DETAILS:  Glass Apple Theatre presents "Shadows of Birds" at the Edge Theater, 5451 N. Broadway, Chicago, through September ­­22, 2019. Running time is 80 minutes with no intermission. For tickets and other information, call (800) 838-3006, or visit Brown Paper Tickets.
Francine Pappadis Friedman
For more shows visit Theatre in Chicago