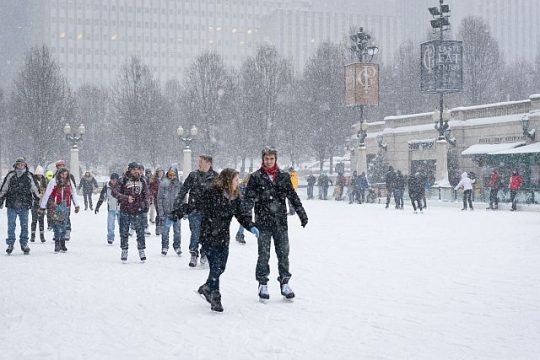 Around Chicago it's that time of year to see such holiday shows as those listed in Holiday Happenings Part One and walk paths of twinkling, colored lights highlighted in Part Two.
Holiday Happening Part III brings you places for fun holiday shopping, ice skating and traditional events.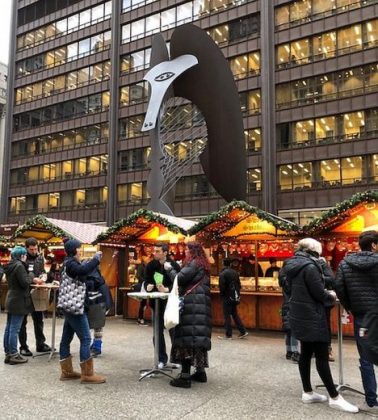 Markets and More
Christkindl, a European-style holiday market filled with delicious snacks, drinks and trinkets is back in Daley's Plaza on Washington Street between Clark and Dearborn Streets.  Begun in Chicago 24 years ago, the Christkindl Market takes after the famous one in Nuremberg, Germany, begun in the middle 16th century. It's downtown Chiago now through Dec. 24.
More recently a Christkindle Market added a Wrigleyville location at Cubs Park's Gallagher Way where it is part of Winterland at 3635 N. Clark St., now through Dec. 31. The "More" part is the Ice Rink at Gallagher Way open through Feb.. 16, 2020. Skating charge is $6 for ages 13 and older.
If over by Navy Pier, that  mile (almost)-long Chicago attraction sticking into Lake Michigan at the end of Grand Avenue, check out its Winter Wonder Market. It's in the FifthThird Bank Family Pavilion through Dec. 24.  The "More" is Winter WonderFest, a large, indoor winter playground that includes carnival rides and an ice rink. It's in Festival Hall from Dec. 6, 2019 through Jan.12, 2020. Navy Pier is at 600 E. Grand Ave.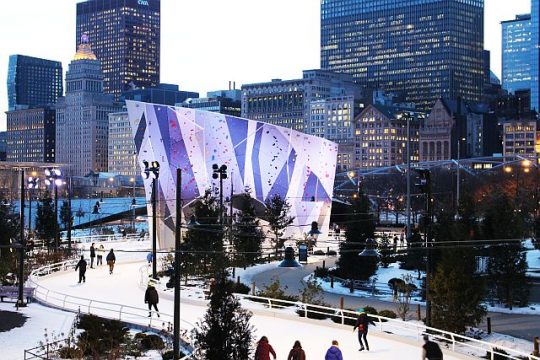 Ice Skating
You heard about the rinks at Gallagher Way and Navy Pier. But Millennial Park's McCormick Tribune Ice Rink and Maggie Daley Park's Ice
Skating Ribbon Ice Rink, downtown near  Michigan  and Randolph Avenues, have free skating rinks.  Hilton guests also can get complimentary skates to use at the McCormick Tribune Ice Rink. The rinks are a fun way to spend Christmas and New Year's Eves and Christmas and New Year's Days. For rental information and special rink events such as DJ night visit Ice skating at Millenium Park and Maggie Daley Park ice skating Ribbon.
On the edge of Chicago near O'Hare Airport in Rosemont, is The Park, a 200,000 square-foot entertainment complex that sparkles with thousands of holiday lights. It also contains the Chicago Wolves Ice Rink. Surrounded by tempting shops and restaurants, it's a fun place to skate and take a food break. A special treat is Sundays from 9 to 11 a.m. when parents and youngsters age 12 and under can skate with Characters on Ice: Dec. 1 Cinderella & The Prince, Dec. 8 Anna & Kristoff, Dec. 15 Batman & Catwoman, Dec. 22 Santa & Mrs. claus and Dec. 29 Peter Pan & Captain Hook.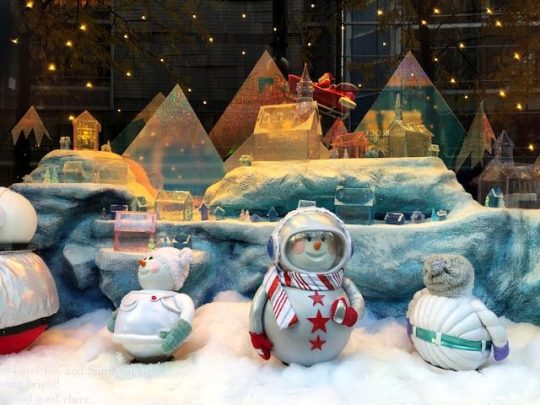 Traditional holiday events
At Caroling at Cloud Gate (The Bean)  anyone can join in the holiday singing by what is fondly called "The Bean" sculpture in Millennium Park. The event is free and goes 6 to 7 p.m. on Fridays from Nov. 29 through Dec. 20, 2019. Part concert and part sing-along, carolers are given song books and will be singing along with the Sounds good! Choir on Nov. 29, Mark Hubbard and The Voices on Dec. 6, the Chicago Children's Choir on Dec. 13 and the Wicker Park Choral Singers, Dec. 20.  Assisted Listening Devices are also available with 72 hours notice by emailing dcase@cityofchicago.org.
Perfect for the next generation of nutcracker and sugar plum fairy dancers is the city's Nutcracker dance-along. Youngsters have been moving and twirling to Tchaikovsky's popular ballet for years in Preston Bradley Hall at the Chicago Cultural Center. This year the event is Dec. 8 beginning with dance lessons at 9 a.m. and again at noon, and performances at 10 a.m. and again at 1 p.m. The event is free. The Chicago Cultural Center is on Michigan Avenue between Randolph and Washington Streets and uses 78 E. Washington St. as the main entrance.
Macy's Windows and Walnut Room is a long-time Chicago family tradition that began years ago when the landmark State Street department store was Marshall Fields. It started in 1897  toy displays but changed to themed windows in 1944 with "The Night Before Christmas." Macy's has kept the tradition. So walk along State Street between Washington and Randolph Streets to see what holiday story Macy's is doing this year.
Then go up to the seventh floor to see Macy's 45 foot high tree in the store's historic (1905) Walnut Room. Make a reservation to eat near the tree which will be up until early January 2019, Macy's is at 111 N. State St.
Enjoy the holidays!
Jodie Jacobs