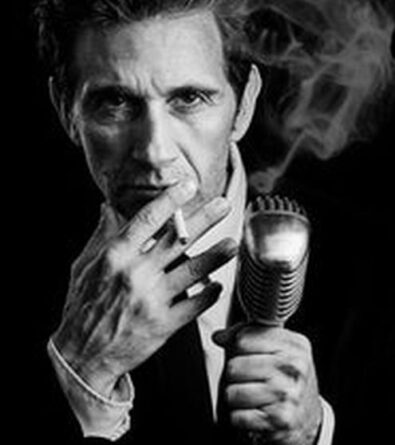 4 stars 
Prepare to be dazzled by Ronnie Marmo who plays the tragic Lenny Bruce in  "I'm Not a Comedian… I'm Lenny Bruce," now extended at the Royal George Theater.
Written by and starring Marmo, the playwright/actor plays Bruce and other characters as he takes audiences through the highs and lows of Bruce's life, including his relationships with his mother, wife Honey Harlow and daughter Kitty.
Thanks to the success of The Marvelous Mrs. Maisel, interest has been reinvigorated in Lenny Bruce who plays Midge Maisel's mentor and friend. Time will tell how the award-winning series treats Bruce's drug overdose.
Today, Bruce is considered a great artist whose influence had an impact on other comedians, politics and a freedom of speech case that took him all the way to the Supreme Court.
Marmo plays it straight, speaks the truth and leaves nothing to chance as he relates Bruce's court battles regarding indecency and obscenity in his live performances.
It makes one think about how far we have come from those earlier days of censorship.
The truth is Bruce was funny and laid the groundwork for today's comedy stars who admit that much of their shtick was based on Bruce's style and humor.
Expertly directed by Tony and Jefferson Award-winning stage actor, film and television star, Joe Mantegna, the show takes on a larger-than-life presentation of the comic genius. Marmo's performance captures Bruce's natural talents as an actor and comedian.
Through the laughter, and there is a great deal of it, Marmo plays Bruce with compassion and angst. The audience can see his pain is real as he fights with not only the police, but loneliness. As Bruce descends into a drug-induced lifestyle, Marmos' character undergoes a dramatic transition in a powerhouse performance.
Come meet Marmo after the show which has been extended several times. .
A portion of ticket sales goes to The Lenny Bruce Memorial Foundation, a 501 (c) 3 non-profit organization honoring the legacy of Lenny Bruce by providing drug and alcohol rehabilitation and recovery for those with an inability to pay.
DETAILS: "I'm Not a Comedian… I'm Lenny Bruce," is at The Royal George Theatre, 1641 N Halsted St, Chicago, through March 5, 2020. Running time: 90 minutes without intermission. For tickets and other information, call (312) 988-9000 or visit theroyalgeorgetheatre
Mira Temkin
For more shows visit Theatre in Chicago