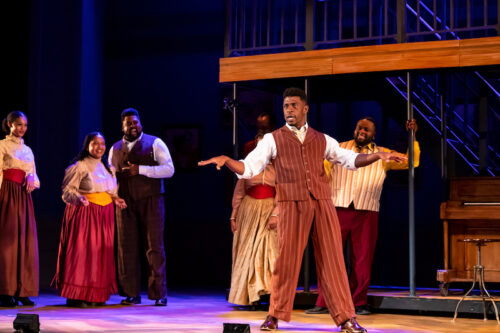 4 Stars
Music Theater Works' "Ragtime," a multi-award-winning musical with lyrics by Lynn Ahrens and music by Stephen Flaherty, is a powerful, riveting production that perfectly meshes with our current age of anxiety.
Based on E. L. Doctorow's novel on the pervasive value systems and prejudices toward immigrants, blacks, class structure and women's "place" in the early 1900's, the musical follows the interaction of three disparate "family" groupings.
Now at the North Shore Center for the Performing Arts in Skokie, "Ragtime" unfortunately closes Nov. 7, 2021. Music Theater Works productions historically ran for just a couple of weeks when housed at Cahn Auditorium on Northwestern's Evanston Campus. Maybe it's wistful thinking about budget and date conflicts to hope the venue change would allow longer runs.
A production as good as "Ragtime" superbly directed by Stacey Flaster with sophisticated staging and propelled by the cast's powerful voices, deserves a longer run.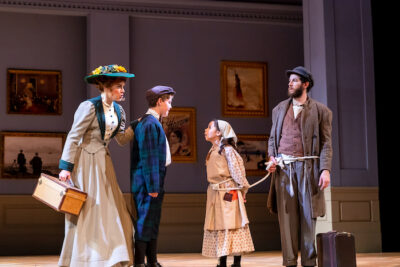 A beautifully choreographed opening movement immediately tells audiences that the story revolves around three groups – upper-class Caucasians dressed in white, poor immigrants poorly clothed in dull colors and the blacks of the time in colorful garments.  The three groups march and move together, until they don't.
As the tale of three people, Mother from the affluent group, excellently portrayed and sung by, Kelly Britt, Tetah, a Jewish Immigrant, wonderfully sung and acted by Dan Gold, and Coalhouse Walker Jr., a black pianist outstandingly depicted by Curtis Bannister, moves along, their voices remind audiences that before Music Theater Works updated its name, it started out focusing on operettas and that "Ragtime" is an operetta like "Porgy and Bess."
The musical's trios and the duets, such as the gorgeous duet of Bannister and Lydia Burke, Coalhouse's lover, Sarah, are "bravo" worthy.
On a different note, the fun of "Ragtime" is meeting and hearing from notable historical figures of that time from Harry Houdini (Alexander Christ), J. P Morgan (James Spangler) and Henry Ford (Christopher Davis) to Emma Goldman (Michelle Owens), Booker T. Washington (Korey White) and Evelyn Nesbit (Laura Sportiello).
Given the popularity of this remarkable production, tickets to the next show, "Billy Elliot," Dec. 23, 2021-Jan. 2, 2022, are likely to be in high demand.
DETAILS: "Ragtime" is in the Center (the large theater) at North shore Center for the Performing Arts, 9501 Skokie blvd., Skokie, IL through  Nov. 7, 2021. Run Time: approximately 2 hours, 45 minutes with a 15 minute intermission. For tickets and more information on this and other  productions visit Music Theater Works.  Note: the playbill warns that the show contains the offensive language of the times.
Jodie Jacobs
For more shows visit Theatre in Chicago