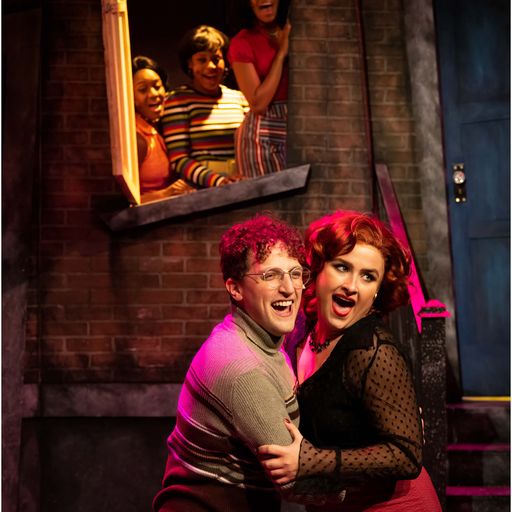 Recommended
October, when you are asked to believe in the supernatural, is the perfect month to see Little Shop of Horrors at Citadel Theatre.
Director Matthew Silar, production manager Ellen Phelps and scenic designer Eric Luchen have magically figured out how to innovatively cram scenery that includes a skid row tenement stairway, a flower shop, dentist's office and a growing-by-the-minute voracious plant with evil intentions into Citadel's miniscule space.
Balancing the evil of the plant are the fun combo of rock and roll /doo-wop dances and songs by a trio of young skid row residents: Chiffon (Ania Martin) Crystal (Isis Elizabeth) and Ronnette (Sabrina Edwards).
The trio also move the scenery, changing an outside wall into the shop and other places as needed.
Ledes are Sam Shankman who wears well the persona of the nebbish shop employee/plant cultivator Seymour and his love interest, fellow shop employee Audrey, nicely portrayed by Dani Pike.
Unseen stars are puppet designer Matt McGee, puppeteer of the plant, Michael Dias, and Audrey II's voice, Aaron Reese Boseman. Seymour named his plant Audrey II in honor of the girl he works with and really likes.
Secondary characters and the people the audience figure out early on will become Audrey II's plant food, are shop owner Mr. Mushnik (Alan Ball) and Orin Serivello, D.D.C (Philip C. Matthews).
A horror musical-comedy with music by Alan Menken and lyrics and book by Howard Ashman, the story is based originally on a 1960 film noir titled "The Little Shop of Horrors."  It was later remade into a 1986 film directed by Frank Oz.
I did see a young child in the audience but wouldn't suggest the show for children below preteens or maybe middle schoolers who really like haunted houses.
Since nothing tried seemed to destroy Audrey II, the show is less allegorical than a statement or warning about greed and power. The characters who are originally OK with the plant's choices in Act I have second thoughts about the plant in Act II.
DETAILS: "The Little Shop of Horrors" is at Citadel Theatre, 300 Waukegan Rd, Lake Forest, IL. now through Oct. 16, 2022.  Running time: 2 hours with one intermission. For tickets and more information visit Citadel Theatre or call (847) 735-8554.
Jodie Jacobs
For more shows visit Theatre in Chicago