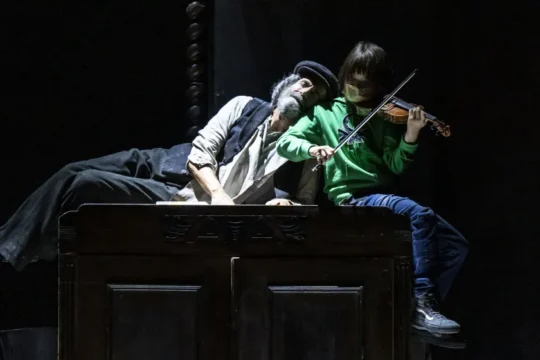 3 stars (Recommended)
That the US premiere of Komische Oper Berlin's "Fiddler on the Roof" that opened in 2017, is on stage at Lyric Opera of Chicago now through early October.
It does more than merely fit this productions' large-scale scenery and cast. Judging by comments heard during intermission, audience members who had not attended an opera here were dazzled by the size and make-up of the hall and building. Maybe, they will return for an opera.
Lyric's production, directed by Barrie Kosky, definitely takes advantage of an operatic stage with its large chorus of villagers, remarkable dancers, its many main cast members and enough other actors to fill the shtetl of Anatevka in the Pale of Settlement in Imperial Russia.
Of course, when talking as writer Sholem Aleichem (the pen name of Solomon Naumovich Rabinovich) did in stories about the challenges dairyman Tevye had with his many daughters and life in a Russian village (Tevye and his Daughters) what became 'Fiddler on the Roof" could seem operatic in nature.
The voices of the main characters and chorus and the dances choreographed by Silvarno Marraffa, particularly the spectacular "Bottle Dance," are worth the visit to the Lyric for the show.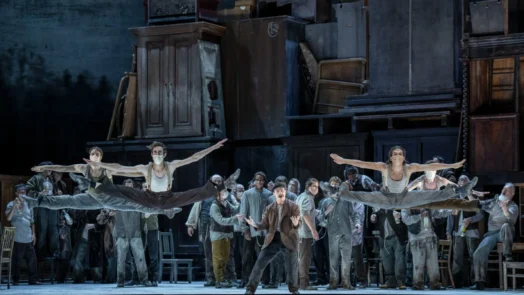 What bothered me was that by going grand, the production, at least for me, lost the small-scale, intimate, Dickens-like peeking in the window that gave "Fiddler" the folk-tale, dream sense Jewish Russian artist Marc Chagall pictured in his works about Jewish life and his painting of the "Green Violinist" used on the program's cover.
But what brings "Fiddler" to life now is how it ends with the Jewish villagers forced to leave back in 1905. Consider how many of the residents of the region which later became part of Ukraine, are sadly part of a war-driven exodus in 2022.
What was meaningful to me and beautifully brought out in the musical's book by Joseph Stein, music by Jetty Bock and lyrics by Sheldon Harnick was the underlying theme of tradition vs change.  You hear it and think about it the song "Tradition" and "Sunrise Sunset" and in Tevye's musings with G…d.
Note: I should explain that "Fiddler" is personal. My father's family of several sons and daughters left that region for the United States. His father whom we called Zaidi, was a tailor and they were Orthodox Jews. My father talked about how horrible the Russian Cossacks were to the villagers.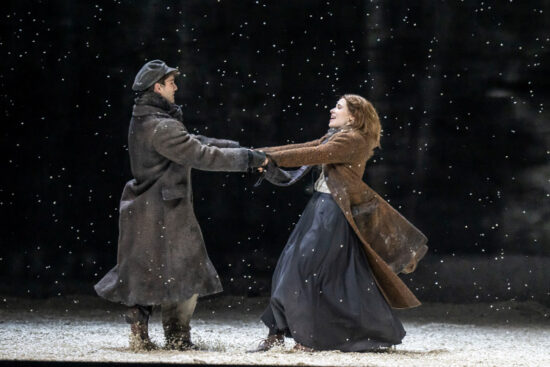 The "Fiddler" family in the Lyric production are Steven Skybell who is a perfect Tevye, Debbie Gravitte who is excellent as his wife, Golde, and oldest daughters Maya Jacobson as Chava, Lauren Marcus as Tzeitel, Austen Bohmer as Hodel and younger daughters, Omi Lichtenstein as Bielke and Liliana Renteria as Shprintzel. It's the older daughters who are changing the family's traditions.
As to their chosen mates which definitely went against tradtion, they are Drew Redington as Mote), Adam Kaplan as Perchik and Michael Nigro as Fyedka.
Mention should also be made of Yente, the Matchmaker, nicely portrayed by Joy Hermalyn and the Fiddler, Drake Wunderflich, a fifth-grader who is a member of the Chicago Youth Symphony Orchestra. He starts out with a scooter he trades in the opening scene for a fiddle and is on the roof in most scenes, then appears again at the end.
"Fiddler on the Roof" is at the Lyric Opera House, 20 N. Wacker, now  through Oct. 7, 2022. Running time: 3 hours, 15 min. with one intermission. For tickets and more information visit lyricopera.org or call (312) 827-5600.
Jodie Jacobs
For more shows visit  Theatre in Chicago