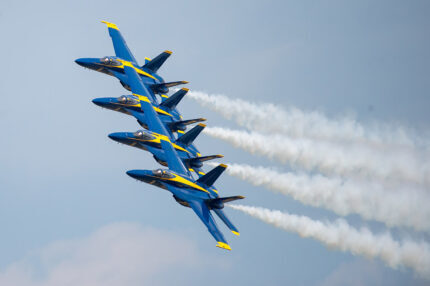 Start looking up if in Chicago or its suburbs near Lake Michigan, Friday, Aug. 19, 2022, The zooms you hear are likely from the U.S. Navy/Marine Corps Blue Angels.
The Chicago Air and Water Show, the country's largest, free exhibition of precision flying, is at the city's North Avenue Beach, 10 a.m. through 2 p.m. Aug. 20-21. But several performers practice on Aug. 19, which means Friday is also a good day to visit the beach area from Oak Street north.  
Begun as the Lakeshore Park and Water Show in 1959 featuring a Coast Guard Air Sea Rescue demo and water events, it soon added the U.S. Army's Golden Knights Parachute Team and the U.S. Air Force Thunderbirds that have since appeared alternate years with the U. S. Navy's Blue Angels – a 2022 show headliner.
Stationed at Forrest Sherman Field Naval Air Station in Pensacola, FL. during its show season, the Blue Angels' team was started by Chief of Naval Operations Admiral Chester Nimitz in 1946 to raise awareness and interest in naval aviation.
The squadron spends January through March training at the Naval Air Facility in El Centro, CA. For more Blue Angels history visit U.S. Navy Blue Angels History.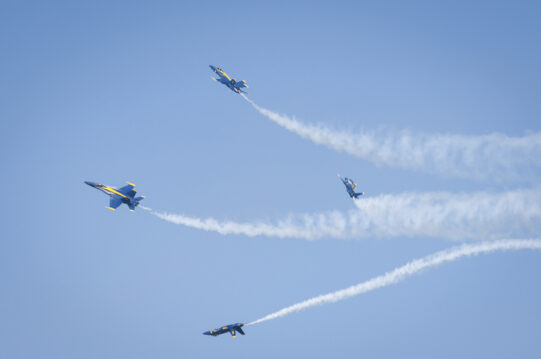 The U.S. Army Golden Knights, the show's other featured group, first got together in 1959 when 19 Airborne Soldiers from different units formed the Strategic Army Command Parachute Team (STRAC) under Brigadier General Joseph Stilwell Jr. to participate in skydiving competitions.
The STRAC team would become the United States Army Parachute Team. By 1962 the team was called "Golden Knights" for the medals won.
Where to watch
From the ground
You can hear long-time Air and Water show announcer and former military and commercial pilot Herb Hunter on the PA system at North Avenue Beach in Lincoln Part at 1600 N. Lake Shore Dr.
But you can pretty much see the show along the Lake Michigan shoreline from the Oak Street Beach north to Fullerton Avenue.
From a skyscraper
Reserve and enjoy a cocktail, lunch or brunch at The Signature Room or Lounge in the John Hancock Center. The Signature Room & Lounge at the 95th® | Restaurant, Lounge, & Private Events in Chicago, IL
Or go one floor lower to "360," the observation deck on the 94th floor in the Hancock Center Observatory. The John Hancock Center is at 875 N Michigan Ave.360 Chicago Observation Deck | (John Hancock Center Observatory) or reserve spot at signature room for lunch or brunch. Floor above.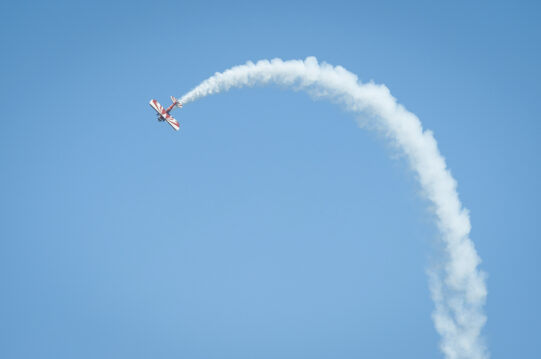 The Performers
The U.S. Navy/Marine Corps Blue Angels C-130 "Fat Albert", the US NavyF35C Lightening II demo Team and US Navy Legacy Flight with FG 1 D Corsiar and A-4B Skyhawk
Chicago show will be the first time, the U.S. Air Force Heritage Flight and U.S. Navy Legacy Flights will be performing in the same Air and Water Show. There will be an additional F-35C Legacy II to incorporate a "Missing Man" dedication to the late Rudy Malnati Jr. who was the Chicago Air and Water Show Director for 30 years.
Other military performers include the US Air Force F-22 Raptor demo team, US Coast Guard Ari/Sea Rescue, Maryland Air National Guard A-10C Thunderbolt II, IL National Guard 183rd Security Forces, US Marine Corps MV-22 Osprey and US Air Force Red Horse Mobile Aircraft Arresting Gear Team.
Civilian performers include Susan Dacy of Barnstorming America with Big Red, Bill Stein, Kevin Coleman, Rob Holland, Triple Time Team, and from the city, the Chicago Fire Dept Air/Sea Rescue Team and the Chicago Police Dept. helicopter.
For more Air and Water show how to enjoy the Air and Water show see Tips from Chicago Department of Cultural Affairs and Special Events.
Jodie Jacobs