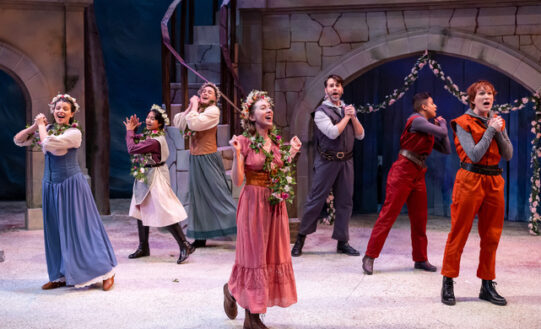 Recommended
The good part of "Camelot" now playing at the North Shore Center for the Performing Arts in Skokie, is the beautiful voice of Christine Mayland Perkins as Guenevere and such wonderful Lerner and Loewe songs as "Camelot," "How to Handle a Woman," "If Ever I Would Leave You" "What Do the Simple Folk Do? and "I loved You Once in Silence."
The problem this writer has with the show is that even though it is put on by Music Theater Works it has nothing like the scope and theatrical impact that the company's productions had at Kahn Auditorium in Evanston which included a memorable "Mame" and "Pirates." 
The current slim-down, post pandemic offering is held in the Performing Arts' smallish North Theatre which works well for Northlight's plays, but is likely to disappoint Music Theater Works longtime subscribers.
Ann Davis' set worked well for the stage and small cast of nine but the production felt more like good community theater than the excellent full-scale musicals and operettas that gave Music Theater Works its reputation.
However, current audiences might look beyond scale and appreciated director Brianna Borger's focus on ideals clashing with desires.
DETAILS: "Camelot" presented by Music Theater Works, runs now through Nov. 13, 2022 at the North Shore Center for the Performing Arts, 9501 Skokie Blvd., Skokie, IL. Running time: 2 hours with one intermission. For tickets visit Musicaltgheaterworks/camelot or call (847) 673-6300.
Jodie Jacobs  
For more shows visit www.theatreinchicago.com