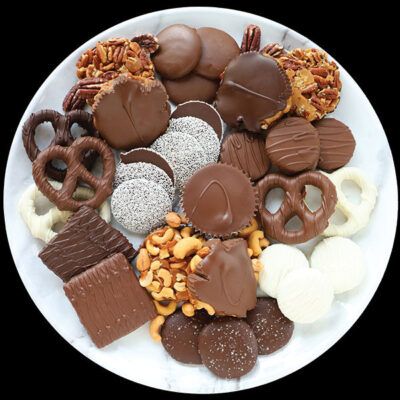 Chocolate Fest, a popular festival held by the historic town of Long Grove, IL, is back.
Visitors walk along cobblestone paths, snap photos of the town's famous  covered bridge, and meander among historic structures and a watermill while noshing on chocolate everything from donuts, cupcakes and dipped fruit to cake pops and chocolate popcorn.
They can get tickets to a chocolate-wine pairing or find out how a charcuterie, now among the latest gourmet trends, can be done with chocolates.
Tickets for the fest are $5 through Ticketweb.com. Tickets for the chocolate  charcuterie are $30 and the same for the wine pairing.
The chocolate charcuteries is at Long Grove Confectionery Co: 114 Old McHenry Road, Long Grove May 20-21 from 3 to 3:45 p.m.
Wine and chocolate pairing is Saturday from 1:30 to 2 p.m. and Sunday from1 to 1:30 p.m. at Corked, 132 Old McHenry Rd., Long Grove.
There is also has a kids' zone, live music and a carnival.
Details: Chocolate Fest is May 20, 21, 22, 2022 in dwntown Long Grove, 308 Old McHenry Rd. Hours are  Fri, noon– 11 p.m., Sat, 10 a.m.– 11 p.m. and Sun, 10 a.m. – 6 p.m.
The fest is very popular and there is a limited amount of complimentary parking in the public lots, downtown Long Grove so ride sharing is recommended.
A shuttle service will run from the Buffalo Grove Park District parking lot at 530 Bernard Dr. to Archer Road between Robert Parker Coffin and Old McHenry Rd. next to entrance to the Carnival Parking Lot, Sat. from 10:45 a.m. to 11:15 p.m. and Sunday from 10:45 a.m. to 6:15 p.m.
For more music and other information or tickets visit Long Grove Chocolatefest.
Jodie Jacobs