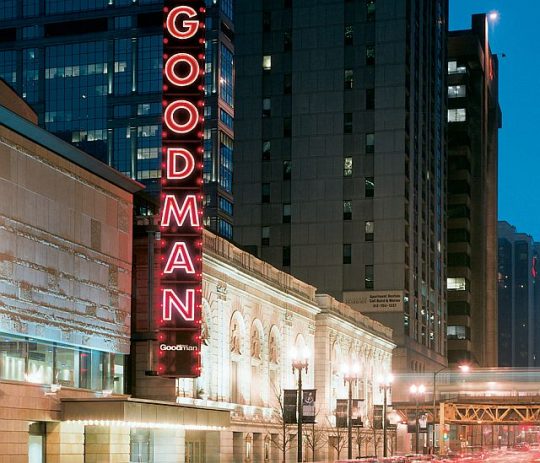 Theater critics tend to return to the same places before covering a show. They are not usually the upscale places gone to for a special occasion or the newest eatery with a gourmet menu or "in" vibe.  They have good food and are convenient to the venues.
Here are my recommendations based on experience for two downtown theaters ( I use theater spelled er) and two places in the northern suburbs. More areas later.
Downtown-Loop
When going to the Goodman Theatre  170 N Dearborn St. or James M  Nederlander Theatre, a Broadway in Chicago venue at  24 W. Randolph St., I reserve a table in the bar at Petterinos (312-422-0150, 150 N. Dearborn St.) at the corner of Dearborn and Randolph Streets.
The bartenders here are terrific. They serve their patrons quickly when they know they have a show. And I like the fried calamari when looking for something light and the amazing chicken pot pie when cold weather calls for a dish to warm the insides.
The restaurant is literally next door to Goodman and just a few steps across Dearborn to the Nederlander (former Oriental). I take public transportation but Petterinos has a valet service for customers who want to park there and see a show.
Downtown – Mag Mile
There are lots of places to dine on and near the Magnificent Mile. But when reviewing a show at Lookingglass Theatre, 821 N Michigan Ave. in the historic Water Tower Water Works  on the east side of the Water Tower campus or at the Broadway Playhouse at Water Tower Place, 175 E. Chestnut St., I reserve a table at Mity-Nice Grill on the Mezzanine Level of Water Tower Place (835 N. Michigan Ave., 312.335.4745).
I like their veggie burger and their salads and that they bring tiny Yorkshire pudding bites to start the meal.
North Suburbs – Lincolnshire
I look forward to dining at the Three Embers Restaurant in the Marriott Resort, 10 Marriott Dr., when reviewing a show at the Marriott Theatre in Lincolnshire.
Executive Chef Pierre Daval and Chef de Cuisine Jesus (Chuy) Medina are currently showcasing their Harvest Dinner. At Three Embers, diners get honey butter for their rolls that is a taste treat made with honey from Daval's beehives on the property. I also love the Honey BBQ Brisket with smoked grits. But I'm thinking of trying the Sea Scallops dish with butternut squash and a maple glace when I go for the next show because squash and maple are too seasonal to pass up.
North Suburbs – Skokie
Across the road from Northlight Theatre at the North Shore Center for the Performing Arts, 9501 Skokie Boulevard, Skokie, is a small strip mall that contains the popular Bonefish Grill at 9310 Skokie Blvd. Yes, you need a reservation and tell the waitperson you are going to a show.
I like the restaurant's bread and dipping oil, its Caesar Salad and any shrimp dish with a variety of sauces.
Feel free to leave your own recommendations.
Jodie Jacobs