Ice skate amid van Gogh's swirling colors. Down a mug of mulled wine or snack on a warm pretzel. Browse artisan goods. The holiday season is back with delightful choices for all ages.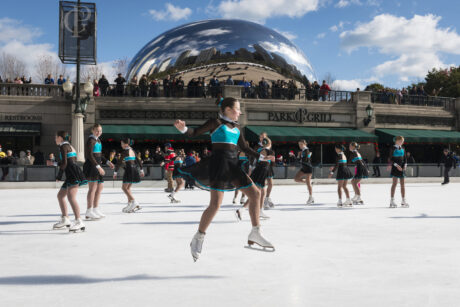 Ice skating
Tis the season for millions of twinkling lights to transform paths from the Chicago Botanic Garden and The Morton Arboretum to Lincoln Park and Brookfield Zoos. But if looking for something different to do this year skate against a Chicago cityscape. Mask wearing is encouraged as well as social distancing.
Downtown Chicago area
Look below the "Bean" at Millennium Park at Randolph Street and Michigan Avenue where skaters move to music and can take lessons at the McCormick Tribune Ice Rink. Skating is free and available now through March 6. To avoid overcrowding, reservation tickets are needed. Visit  City of Chicago :: McCormick Tribune Ice Rink
Just east of the McCormick Rink is the quarter-mile Maggie Daley Skating Ribbon where visitors can skate a top of van Gogh's "Starry Night" and "Sunflowers" thanks to a partnership of the Chicago Park district and "Immersive Van Gogh." Open now thru March 13, 2022, reservation tickets are needed. Admission with your own skates is free Monday through Thursday and $5 Friday through Sunday and on holiday dates. Admission with skate rental is $16 Monday through Thursday and $20 Friday through Sunday and on holiday dates. Maggie Daley Park and Skating ribbon is at 337 E. Randolph St. Visit Gogh skating for more information and reservations. Maggie Daley Park
A bit further north and east (600 E. Grand Ave.), skaters will find indoor ice at Navy Pier's Alpine Rink in Festival Hall. It's part of the Pier's Light Up the Lake Festival that features a beer garden and shopping through Jan. 2, 2022. https://navypier.org/
Further out
Wrigleyville
The Rink at Gallagher Way, a large community patch of lawn abutting the Chicago Cubs stadium, is frozen over for ice events such as bumper cars and curling but its main use during the annual Winterland at Gallagher Way is for ice skating and skate lessons now through Feb. 20, 2022.
Admission is free for skaters 12 years and younger and $6 for skaters 13 years and older. Visitors can bring skates or rent them there for $12. Bags can be checked for $2. For hours and more information visit Winterland at Gallagher Way
Rosemont
Parkway Bank Park, Rosemont's fun entertainment district and the Chicago Wolves Ice Rink, hosts Skating in the Park now through Feb. 27,2022. Bring skates or rent them for $8. For hours and more information visit  Parkway Bank Park – It's all here in Rosemont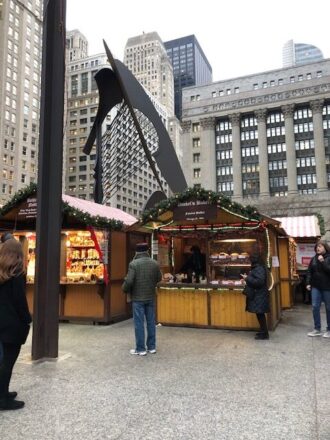 Unique Shopping
Black Friday and Cyber Monday have come and gone leaving holiday shoppers with time to search for something different for themselves and others.
The Christkindlmarket, a traditional, outdoor German marketplace, now open downtown at Daley Plaza and north at Gallagher Way in Wrigleyville, is a fun and tasty holiday destination. In town now through Dec. 24, 2021, admission is free but there is crowd control so there may be lines to get into the market. For Chicago hours and more information visit German Christmas in Chicago | Christkindlmarket. For Gallagherway see German Christmas in Wrigleyville | Christkindlmarket
To find interesting fashion and home décor items and yummy food, go to the Chicago Artisan Market at Fulton Market West Loop on Dec. 12. For more information and ticket reservations visit About – Chicago Artisan Market.
Jodie Jacobs