Hamilton
More tickets to Lin Manuel Miranda's hit musical, 'Hamilton,' will become available beginning at 10 a.m. Aug. 29, 2017, according to producer Jeffrey Seller.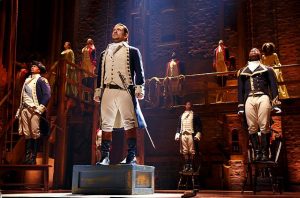 Announced in conjunction with Broadway in Chicago, he noted that a 16 week block of tickets can be purchased from 10 a.m. to 5 p.m. at The PrivateBank Theatre's box office, 18 W. Monroe St., online at BroadwayinChicago and by calling the Broadway In Chicago Ticket Line at (800) 775-2000.
The new block of tickets extends the run to April 29, 2018. The box office had been selling tickets only through Jan 7 of next year.
Tickets range in cost from $65 to $190. However, the online lottery for $10 seats will continue.
The lottery can be entered through a new app at HamiltonBroadway and at BroadwayinChicago. Access to the new lottery is 11 a.m. (Central Time) two days before the performance and through 9 a.m. the day before the performance.
The show is based on Ron Chernow's biography of Founding Father Alexander Hamilton.  More on the musical can be found at "Hamilton is worth the hype."
Jeff  Equity Nominations
Check the list to see if a theater production you saw and liked made the Jefferson Committee's equity nomination list. Nominations fall into 33 categories.
Shows had to be running between Aug.1, 2016 and July 31, 2017.  The 49th Annual Equity Jeff Awards ceremony will be held Nov. 6 at Drury Lane Theatre, 100 Drury Lane, Oakbrook Terrace.
Drury Lane Productions took the most nominations at 19 followed by Paramount and Writers Theatres with 15, Goodman Theatre at 14, Porchlight Music Theatre with 13, Court Theatre at 11 and Marriott Theatre with 10.
Here is a list of nominees in the plays and musicals categories for the show, director, actor and actress.
Continue reading "Hamilton tickets and Jeff nominations in the news"