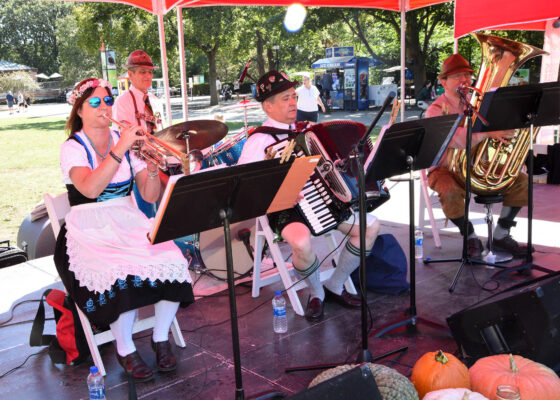 If leaves are beginning to cover your driveway, balcony or lawn it must be time for a Fall Fest. October will be about pumpkins and scarecrows but now let's celebrate Fall in September in towns and fun destinations in and around Chicago
Sept. 9-11 Geneva Festival of the Vine
Hosted by the Geneva Chamber of Commerce, the fest is at south Fourth and James Streets. Similar to the way Taste of Chicago was before the pandemic, wine, beer and food is by tickets. Admission is $40 for 20 tickets. Hours: Fri-Sat are noon-10 p.m. Sun. is noon-5 p.m. For more information visit Geneva Chamber Festival of the Vine or call (630-232-6060.
Sept. 10 Gurnee Fall Fest
Held at Hutchins Athletic Field in Grandwood Park, 36753 N. Hutchins Road, (Gurnee), there will be food trucks, games, music and fireworks. Hours: 10 a.m. to 11 p.m. For more information visit Grandwood Park Fall Fest.
Sept 16-17 Highland Park Oktoberfest
The Lot at 523 Central Ave. is turned into a beer garden from 4 to 10 p.m. It's an evening to eat, drink, relax and come together. For more information visit Enjoy Highland Park. or call 847-432-0800.
Sept 22-25 Huntley Fall Festival
Hosted by the town, park district and civic organizations, the festival features entertainment, food, and carnival activities. The event is at Deicke Park and the Huntley Park District Recreation Center Complex, 12015 Mill St. Admission is free. Hours: Thursday 6pm – 10 p.m., Friday 5 p.m. – 11 p.m., Saturday 10 a.m. – 11. p.m. and Sunday 11 a.m. – 7.p.m. For more information visit Huntley fall fest. Or call 847-669-8935.
Sept. 24 Brookfield Zoo Oktoberfest
Sponsored  by Leinenkugel's, the Oktoberfest will have German food and, of course, beer. Polka music will be going from 11 a.m. through 5 p.m. The fest is on the East Mall. Brookfield Zoo is at 3300 Golf Rd. Brookfield. Admission is $17.95-$24.95 and parking is $15. For more information visit czs.org/Oktoberfest or call 708-688-8347.
Sept. 24-25 Libertyville Fall on the Farm
The festival is a chance to visit Lambs Farm, 14245 W. Rockland Road, to see its animals, take a barrel train ride and touch a tractor provided by the Lake County Farm Heritage Association.  There will also be craftgs, games and inflatables for kids. Hours 10 a.m. to 4 p.m
Admission is $8 adults, and $15 children.  However, no admission fee needed for the DJ, food and beer tent, and vendor fair or visit to the country Store. For more information visit lambsfarm.org/event/fall-on-the-farm-2.
Have a fun  fall
Jodie Jacobs