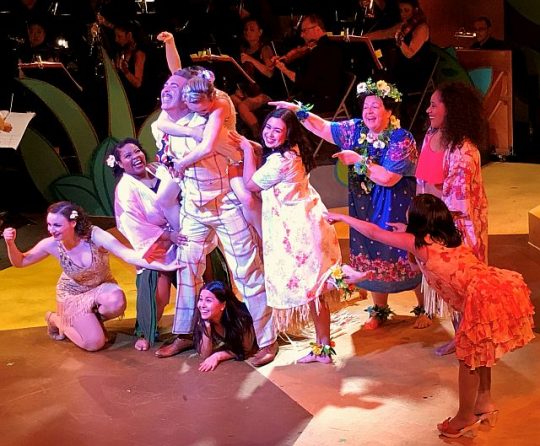 3 stars
 There are two very good reasons to see "The Flower of Hawaii" at Stage 773 on Belmont.
First, is the exceptional musical score by Hungarian composer Paul Abraham expertly conducted by 2007 Georg Solti Foundation Award recipient Anthony Barrese leading an exceptional 19-piece orchestra.
Secondly, is the exciting vocals of tenor Rodell Rosel in the role of Prince Lilo-Taro. The prince has returned to Hawaii after being lost at sea in time to claim his childhood betrothal to Princess Laia performed by the alluring former Ms. Illinois (2014) and Chicago native Marisa Buchheit.
Written by Paul Abraham in 1931, "The Flower of Hawaii" is a jazz operetta now making its American premiere. Translated by Hersh Glagov, it is presented by Folks Operetta as part of their "Reclaimed Voices Series" giving voice to Jewish composers and librettists who were persecuted, exiled or perished at the hands of the German Third Reich.