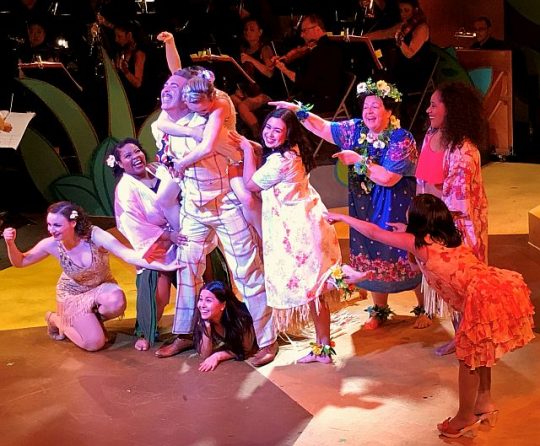 3 stars
 There are two very good reasons to see "The Flower of Hawaii" at Stage 773 on Belmont.
First, is the exceptional musical score by Hungarian composer Paul Abraham expertly conducted by 2007 Georg Solti Foundation Award recipient Anthony Barrese leading an exceptional 19-piece orchestra.
Secondly, is the exciting vocals of tenor Rodell Rosel in the role of Prince Lilo-Taro. The prince has returned to Hawaii after being lost at sea in time to claim his childhood betrothal to Princess Laia performed by the alluring former Ms. Illinois (2014) and Chicago native Marisa Buchheit.
Written by Paul Abraham in 1931, "The Flower of Hawaii" is a jazz operetta now making its American premiere. Translated by Hersh Glagov, it is presented by Folks Operetta as part of their "Reclaimed Voices Series" giving voice to Jewish composers and librettists who were persecuted, exiled or perished at the hands of the German Third Reich.
Most musicals and operettas of this period are basically revues designed to entertain audiences with a variety of song and dance numbers constructed around a loosely organized plot. In short the story-line is farcical, campy and largely inconsequential. The individual performances are what is important and this talented cast does not disappoint.
The ensemble  includes people  making a movie, the Island Governor and his staff, a few locals and a fleet of American seamen. In Act Three the action moves to a Monte Carlo casino to resolve the question of the uncanny resemblance between Princess Laia to prominent Parisian performer Suzanne Provence, both played by Buchheit.
It is in the Monte Carlo scenes where Buchheit really hits her stride particularly in the "I'm a Little Tipsy" number.
The opening night performance was plagued with sound issues which did not help any of the performers overcome their battle with the overwhelming volume of the on-stage orchestra, with the exception of Rosel who probably has "the pipes" to overcome the sound of a 747 taking off at O'Hare. However, the chorus of background singer/dancers were cute and perky and seemed to be really enjoying themselves.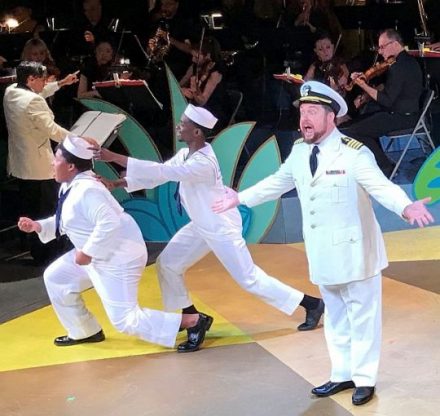 Eleanor Kahn's set design is simple and in step with a nightclub or cabaret of the period reminiscent. It suggests an exotic tropical influence unknown to Abraham and most of the audience of the time.
Patti Roeder's costumes begin with a barely-clad, conch-shell blowing, island fellow, followed by a splashy, windowpane-style plaid suit on comic character John Buffy. The costumes then continue with elegant, late 1920's-nspired, drop-waist dresses for Princess Laia.
A quartet of secondary characters significantly lifted the overall energy, keeping the action and plot moving with great humor and robust choreography.
In fact, this production has five credited choreographers; August Tye (Principal), Reesie Davis, David Acevedo (Hawaiian), Ysaye McKeever (Assistant Hawaiian) and Ryan Trent Oldham (Assistant). Incidentally McKeever is the "real deal" clearly skilled in Polynesian-style belly dancing.
Show notes indicate that opera is defined as 100% music while operetta is defined as 75% music and 25% spoken word. In the case of this opening night performance the cast was near perfection in singing and dancing but clearly attention to the spoken parts was neglected as indicated by poor timing and recognizable insecurity. Surely, this will improve over time.
A clear exception to the dialog timidity was lanky William Roberts who goes all out and is over-the-top hilarious as Governor Lloyd Harrison's aide-de-camp John Buffy.
The Governor (Jerry Miller) hopes to marry-off his niece, Bessie Worthington (Teaira Burge), to the newly discovered Prince, but the plan is complicated by Buffy who is in love with Bessie.
Burge is an inadvertent scene stealer who absolutely nails the feeling of this period in her overall look, performance style, facial expression and body movement.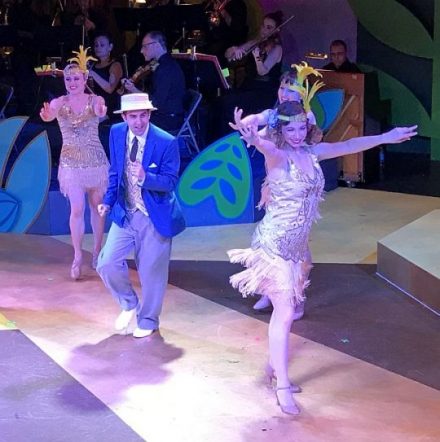 American singer Jimmy Fox  (Ryan Trent Oldham), an athletic dancer reminiscent of Gene Kelly, is responsible for smuggling the Princess back to Hawaii by passing her off as his girlfriend, Suzanne Provence, purported to be Laila's doppelganger.
Jimmy ultimately falls for the effervescent Island Girl, Raka (Angela Yu). She gets a chance to show she is no vocal slouch either when singing her sympathetic duet with the Princess.
Stuck a bit adrift in the middle of the story is Captain Reginald Stone performed by another very capable tenor, Nick Pulikowski. He is also in love with Princess Laia.
Rose Guccione, well known to many Chicago opera fans, is alas, vocally underutilized in this production. However, she manages to telegraph her presence as the muumuu clad Hattie and casino-bar manager, Perroquet.
Skillfully directing this production is Amy Hutchison who has significant experience with opera, operetta and musical theater.  Though the pacing seemed snappy and the first act seemed short, the nearly three-hour running time (including one intermission) might be enhanced by a few judicious cuts. Opening night timing might have been adversely affected by a slow start due to the packed house and a few seating issues.
This is a charming opportunity to experience an often overlooked period of musical theater that produced a great number of notable melodies, many of which have remained in the popular music songbook long after the theatrical production was forgotten.
After nearly 90 years 'The Flower of Hawaii' blooms in Chicago.
DETAILS: "The Flower of Hawaii" is at Stage 773, 1225 W. Belmont, Chicago through July 14, 2019. Running time: officially 2 1/2  hours with one intermission, was closer to 3 hours. For tickets and information visit Folks Operetta.
Reno Lovison
For more shows visit Theatre in Chicago