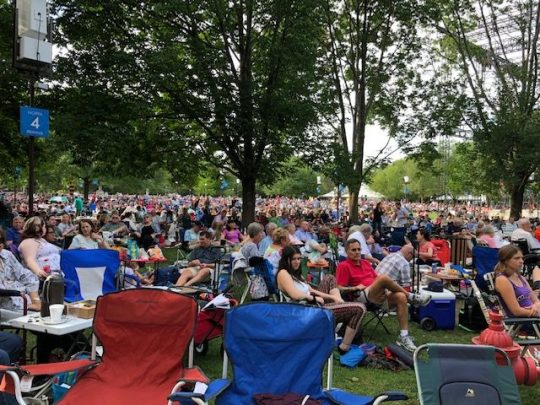 If you have been to Ravinia Festival, the Highland Park summer home of the Chicago Symphony Orchestra and a popular outdoor venue of pop, jazz, folk and classical music entertainers, you likely remember lawn picnics under the stars or sitting in the Pavilion to catch a favorite recording artist.
But today, May 1, 2020, Ravinia President and CEO Welz Kaufman announced that the 2020 season has been canceled to protect the health and safety of its audiences, artists, staff and neighbors.
"Out lengthy and thorough discourse on this topic has brought us to the conclusion that it is impossible to move ahead with the season, " said Kauffman referring to discussions with the Ravinia Board of Trustees and volunteers.
He also noted that Ravinia had been working with guest artists since February on how to proceed including rebooking performers in future seasons.
On the docket for this year were more than 120 programs from June 12 through Sept. 16 plus the Steans Music Institute, which will also be closed.
Ravinia, the oldest operating festival since 1904 had only canceled seasons from 1932 to 1935 due to the Great Depression.
Ticket holder options include refunds, vouchers for future programs and changing them to what would be much appreciated tax-donations.
The concert recording of Leonard Bernstein's "Mass," announced earlier this year, is still scheduled for its PBS broadcast May 15.  Kauffman added that Ravinia is also developing other virtual experiences, such as classes and lectures geared to students of all ages.
"The lives of these young students have been thrown in total disarray, so it is important that Ravinia helps where it can to provide the structure of these virtual classrooms. Our programs give young people a means of expression and connection with each other and their own quarantined families. We teach them that music is their superpower, and what better time than now to have a superpower?" Kauffman said.
He was joined in the announcement by Ravinia Board Chairman Don Civgin who said, "The crisis created by the Covid pandemic has impacted so much of our lives in dramatic ways. Ravinia will do its part in helping the nation recover."
Civgin added,"We will celebrate that recovery with music under the stars next summer."
Jodie Jacobs