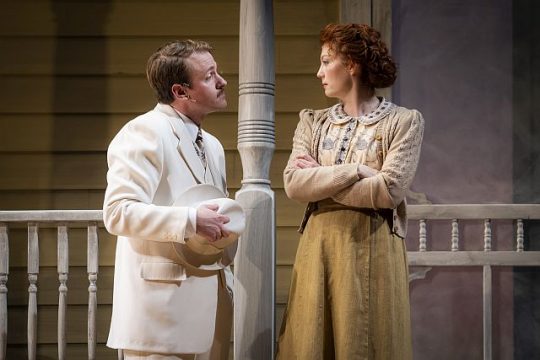 3 stars
If old enough to have seen and loved the 1962 film "The Music Man" you'll likely be expecting someone like Robert Preston to be portraying con man Harold Hill and someone like Shirley Jones as the reserved librarian/music teacher Marian Paroo in the production now playing at Goodman Theatre.
And maybe you would expect the townsfolk to be human beings rather than stereotyped small-town farm characters.
Helmed by the amazingly creative Mary Zimmerman, the Goodman show has several fun moments from the superb opening "Rock Island" salesmen (and woman) train scene and the "Pick-a-Little, Talk-a-Little" hen-clucking number to the delightful quartets by formerly bickering board members.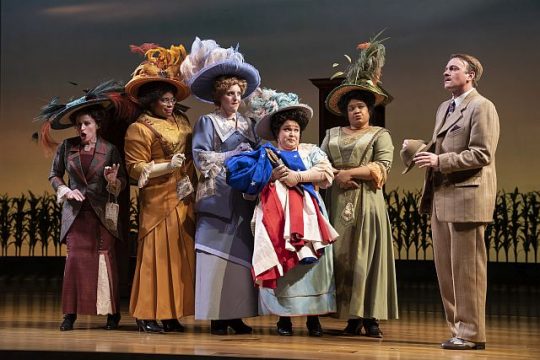 But the strong emotions of the lead characters and townsfolk found in the film, the Broadway revivals and some other Chicago and regional productions are missing.
Part of the problem may be that even though the dancers are excellent, the many dance numbers run too long in a show that really is about changing people's attitudes.
That change was accorded a small nod at the end. However, I was disappointed that the band didn't march onto the stage from the wings in a more stirring finale.
Broadway and national tour regular and Chicago stage veteran Geoff Packard does an OK impression of Harold Hill but something seems to be lacking in his interaction with Paroo played by Chicago and regional theater veteran Monica West. They have the credentials, (a request often asked of Hill by River city's mayor) but their interaction seems more surface than substance.
Chicago actor Mary Ernster was delightful as usual as mom Mrs. Paroo. And a shout-out goes to the charming quartet of James Konicek, Christopher Kale Jones, Jeremy Peter Johnson and Jonathan Schwart.
The production is worth seeing for the fine book, music and lyrics by Meredith Willson, the excellent musical direction by Jermaine Hill (not related) and hearing the exciting "Seventy Six Trombones."
DETAILS: "The Music Man" is at Goodman Theatre, 170 N. Dearborn St., Chicago, through Aug. 18, 2019. Running time: 2 hours, 30 minutes with one intermission. For tickets and other information call (312) 443-3811 and visit Goodman Theatre.
Jodie Jacobs
 For more shows visit Theatre in Chicago