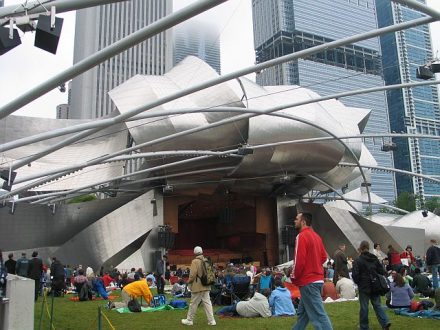 Think "The Music Man." Then add such shows as "Come From Away," "Frozen" and "Hamilton." But as the guy on TV says, "Wait, there's more." Add in opera star Maria Callas to make three spectacular evenings – one in July, another in August and the third one in early September.
  "The Music Man"
Goodman Theatre and the Department of Cultural Affairs and Special Events (DCASE) has a double bill of a short performance by "The Music Man" cast members followed by a screening of the movie featuring Robert Preston and Shirley Jones.
When: July 23, 6:30 p.m. remarks, 6:34 p.m. performance and 6:45 p.m. film.
Where: The Jay Pritzker Pavilion and The Great Lawn at Millennium Park at Randolph Street and Michigan Avenue.
Admission: Free
For park information visit Millennium Park For the film series visit Choose Chicago/Millennium Park/Summer films.  For Goodman Theatre's "The Music Man" visit GoodmanTheatre.
Broadway In Chicago Summer Concert (Coming shows peek)
Co-sponsored by DCASE and ABC 7, several shows from Broadway In Chicago's 2019-2020 season will be live in concert including "The Phantom of the Opera, The Band's visit, Summer: the Donna summer Musical, "Once on this Island, "My Fair Lady", "Mean Girls," Hamilton" Fronzen, "Dear Evan Hansen and "Come from Away."
When: Aug. 12 at 6:15 p.m
Where: Jay Pritzker Pavilion in Millennium Park at 201 E. randolphg st.
Admission: Free.
Visit www.millenniumpark.org For more information on the Summer Concert and Broadway In Chicago, visit www.BroadwayInChicago.com.
Diva Maria Callas
Some of Callas' greatest performances have been digitally re-mastered using state-of-the-art 3D hologram technology by Base Hologram Productions. They will be backed by the Lyric Opera Orchestra conducted by Elmear Noone.
When: Sept 7, 2019 at 7:30 p.m.
Where: Lyric Opera House, 20 N. Wacker Drive.
Co-presented by Lyric Opera of Chicago and Live Nation.
Admission by tickets. Visit  Lyric Opera/Callas
Jodie Jacobs