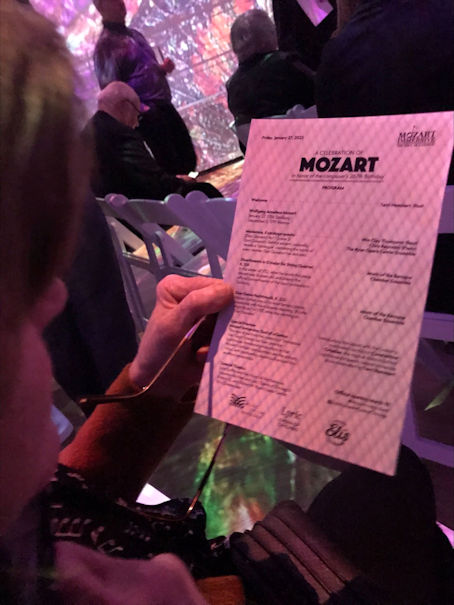 Lighthouse ArtSpaceChicago, known for its presentations of visual artists, celebrated Wolfgang Amadeus Mozart's 267th birthday with a sneak-peak kickoff of "Mozart Immersive: The Soul of a Genius," The birthday celebration included complimentary treats of Prosecco and Eli's Cheesecake."
Past Artspace presentations featured the works of such artists as Van Gogh and Frida Kahlo by utilizing cutting-edge projection techniques to create a 360-degree immersive visual experience.
The Mozart presentation is the first to feature a musician. To craft dream-like 18th century inspired imagery, the producers partnered with the creative team of Massimilliano Siccardi and Vittorio Guidotti.  
Mozart Immersive's world premiere is currently scheduled to open March 10, 2023 at the Lighthouse ArtSpace at the corner of Clark Street and Germania Place with no immediate plans for the exhibit to travel. All the more reason to be sure to check it out.
Terri Hemmert of WXRT Radio hosted the birthday bash with live music by the Ryan Center Ensemble featuring Wm Clay Thompson (Bass) singing an aria from Don Giovanni with Chris Reynolds on piano.
The excellent young basso and pianist duo were followed by an expert chamber ensemble comprised of four string players from The Music of the Baroque performing two Mozart compositions, the ever popular "Eine Kleine Nachtmusik" and "Divertimento in D Major.
The experiential projected images thoughtfully incorporated the monochromatically painted architectural interior features of the former Germania Club that is now the home of Artspace.
For instance, the inside frames of what had been windows were replaced by projected vintage images of the Austrian countryside.
They added to the enjoyment of the string ensemble by transporting us back in time to a place that might have hosted an elegant soiree, perhaps in a stately home or castle of one of Mozart's benefactors.
The final production, a retrospective with highlights from Mozart's short life, integrates video re-enactments with live actors alongside the animation.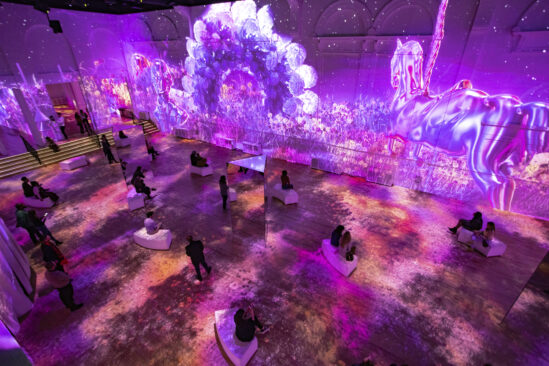 Many visitors will be delighted to see legendary dancer and actor Mikhail Baryshnikov in the heart-rending role of Mozart's father, Leopold, who is credited for launching his son's early career. They became estranged later in life.
Constantine Orbelian, New York City Opera's music director and principal conductor, joined Hemmert onstage to discuss the production.
The music, arranged by composer Luca Longobardi, will accompany Mozart Immersive.  It was recorded by the Lithuanian Kaunas City Symphony Orchestra led by Orbelian.
Before the doors opened, I had an opportunity to interview the Maestro for my ChicagoBroadcastingNetwork.com podcast. The four-time Grammy-nominated musician shared that he had not yet seen the visuals associated with the music and was as eager as the rest of us to get a sneak peek.
Details: Lighthouse ArtSpace Chicago is at 108 Germania PL. For tickets visit Mozart Immersive.
Reno Lovison
Photo: Reno Lovison (R) recorded a podcast interview with Maestro Orbelian (L) which can be heard at ChicagoBroadcastingNetwork.com (Photo Credit: Julie Lovison)
Photo: Julie Lovison, Director of The Lake Shore Music Studio with Constantine Orbelian, Director and Principal Conductor of the New York City Opera celebrating Mozart's birthday at Lighthouse ArtSpace in Gold Coast / Lincoln Park. (Photo Credit: Reno Lovison)
Photo: Visitors get a sneak peek of Mozart Immersive: The Soul of a Genius, Opening March 10, 2023 at Lighthouse Immersive. (Photo Credit: Reno Lovison)