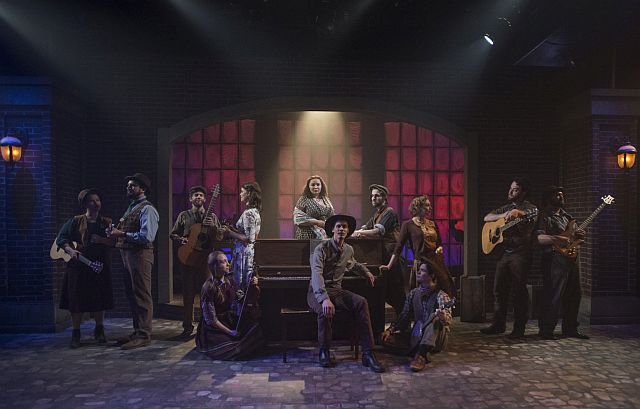 HIGHLY RECOMMEND
Chicago has long been known as a city of industry and labor. As Carl Sandburg said, "Hog Butcher for the  World….Stormy, husky, brawling, City of the Big Shoulders." It is against the post-civil-war backdrop of this version of Chicago that "Haymarket" presented by Underscore Theatre Company at The Den Theatre plays out.
The energetic cast of twelve talented actor/musicians, tell the story of four ill-fated so called "anarchists" and their wives through approximately 19 bluegrass/folk songs with limited dialogue.
The "co-conspirators" were nascent labor activists fighting for among other things an eight hour work day, which we, of course, take for granted with little thought of those who fought and died to make this and other fair labor practices a reality.
The story pivots around the central character of Lucy Parsons performed admirably by Bridget  Adams-King the wife of Albert Parsons (Erik Pearson) who is a proponent of peaceful resistance.
The two find themselves at odds over which way the struggle should go and what role Lucy should play beyond that of organizing the women's labor movement. But through it all, their commitment to each other stays strong.
Things take a turn when Louis Lingg (Joey Harbert) advocates the use of incendiary devices.  The tune "Lady Dynamite" is his love song to all things that go boom.
It is the throwing of a bomb during what became known as the "Haymarket Riot" of May 4, 1886 resulting in the death of eight policemen and an unknown number of civilians that led to the arrest of Parsons, Lingg, August Spies (T.J.  Anderson), and George Engel (Mike Mazzocca).
The ensuing "circus" trial complete with trumped-up charges, a loaded jury and paid witnesses, is playfully portrayed in an inspired interpretation of the events. It culminates in an abbreviated version of the two-day oratory by Spies in the song "Keep on Talking, August Spies."
It should be obvious that things do not end well. The second to last number, "The Execution," is both tasteful and thought provoking as it represents the silencing of dissent.
Led by musical director Robert Ollis, the ensemble is perfection with each performer playing fiddle, guitar, banjo, ukulele, bass, piano, accordion, trumpet and an array of percussion.
The action plays out against a sort of nineteenth century brick arch façade by scenic designer Eric Luchen with a back-lit backdrop of translucent window panes reminiscent of turn-of-the-century workshops. The visual effect is further enhanced by the lighting design of Erik Barry.
With books and music by Alex Higgin-Houser and David Kornfeld and directed by Nick Thornton, the play is a remounting of their 2016 effort following feedback from critics and audiences.
It is obvious that this company has put in the hard work. The production flows swiftly and seemingly effortlessly from beginning to end.
The central theme of capital versus labor and the use of government assets to enforce the interests of business seems to replay itself.  The Haymarket event is one of several ugly chapters in Chicago history and indeed American history that includes elements of class struggle, immigration and ethnic tensions that sadly resounds even today.
DETAILS: "Haymarket" is at The Den Theatre's Heath Main Stage, 1331 N. Milwaukee Ave., Chicago, through July 22, 2018. Running time 2 hrs, 30 min. with 1 intermission. For tickets and other information call(773) 697-3830 or visit Underscore Theatre.
Reno Lovison
For more shows visit Theatre in Chicago