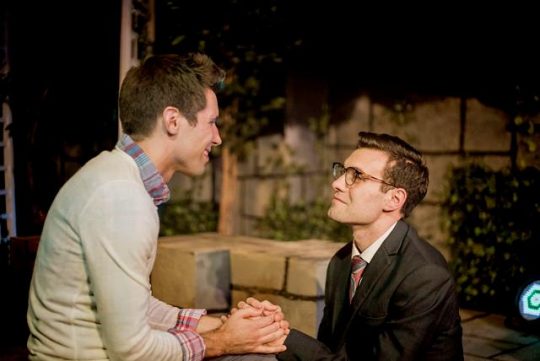 4 stars
First, a gentle warning to theatergoers planning to see"All That He Was," a deeply moving, sometimes humorous new musical by Pride Films & Plays at The Buena: bring along lots of Kleenex.
When theatergoers walk into The Buena, they may be surprised to discover that they're about to attend a funeral. The entire theatre has been transformed into an outdoor, park-like space.
This sepulchral space is highlighted by a tasteful garden of plants and flowers surrounding an arbor and peppered with places to sit and the stage is festooned by strings of tiny white lights.
A poignant AIDS-inspired, mostly sung-through musical, "All That He Was" is a newly revised version of the original, award-winning one-act by Larry Todd Cousineau (book and lyrics) and Cindy O'Connor (music).
This staging, directed with love and sensitivity by the playwright himself, will surely be remembered for years to come as one of the finest productions by Pride Films & Plays.
Matthew Huston, the handsome, lovable young triple-threat, who wowed audiences with his Jeff-nominated leading performance in "Yank! A WWII Love Story," is terrific as the musical's host and narrator.
He plays The Man, the central, nameless character, around whom all the other characters revolve. The year is 1992, and The Man has recently succumbed to the ravages of the HIV viral infection that causes AIDS.
Cousineau's story follows the buoyant, always cheerful character as he first introduces the congregation – the audience – to the eight, onstage mourners who are attending his memorial service.
Huston then guides us on a journey through his life, from birth to death, focusing on the highlights of his twenty-six years on earth. He sets the stage for us with a heartfelt, beautifully sung, "I Want One Day."
We meet his parents, played with polish and panache by veteran Chicago actors. Sarah Hayes and Rick Rapp.
Hayes who practically stole the show in Pride's delightful, "It's Only a Play," is heartbreaking as The Mother who loves her firstborn son but has no idea how to cope with the fact he is gay.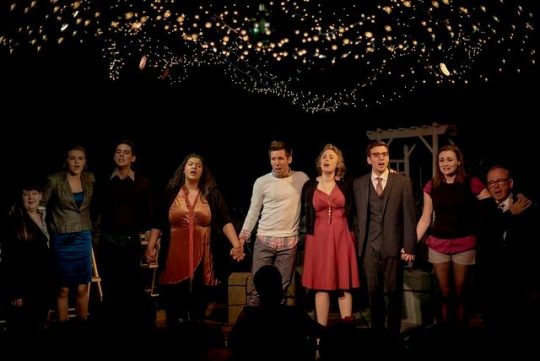 When The Man moves away from home and into the arms of another man, The Mother is devastated.But when her son contracts AIDS, and she must face the harsh fact that he's dying, it's more than she can take.
Balancing  Hayes as The Mother is Rapp's remarkably powerful portrayal of The Father. He will be remembered for his many comic roles with Music Theater Works, including his recent spot-on performance as J.B. Biggley, in "How to Succeed in Business Without Really Trying."
Here he creates a stiff, uncompromising patriarch who refuses to accept his son's sexuality and lifestyle even when the young man lies dying in a hospital bed. Rapp's most affecting moment is his inability to tell his son, "I love you."
The Man's siblings are beautifully portrayed by talented young performers Sarah Ruth Mikulski and Ethan Warren, both making their Pride Films & Plays debut.
Mikulski, The Sister, has the most beautiful, crystal clear soprano ever heard in this theatre and will likely have a successful musical career in the Windy City.
The Sister is a Born-Again Christian teenager, a Bible-thumping believer that religion holds the answer to all of life's problems, including her brother's homosexuality. She's clearly her Father's daughter.
Warren, whose impressive credits range from the Marriott Lincolnshire Theatre to Theo Ubique, is excellent as The Brother who is kept in the dark about his older brother's lifestyle, as well as the disease that he's contracted. Warren's gorgeous voice also fills the theatre, both with ensemble numbers and in his lovely solo, "Somewhere Between."
Not to be outdone, lovely Brittney Brown is perfectly cast as The Girlfriend, the high school sweetheart who unfortunately falls in love with The Man. Fresh off a spectacular performance at Theo Ubique in "Hedwig and the Angry Inch," Brown gives another honest portrayal. She also comes with a stunningly gorgeous voice that simply soars in "I Won't Cry," with Matthew Huston and in her doleful solo reprise of "All That He Was."
Colleen Perry, a powerful performer whose musical talent has been enjoyed in several revues at Black Ensemble Theater, is fiery and feisty as The Counselor. How she creates a soulful character when she counsels The Man in an AIDS art group, is quite touching. Perry and Mikulski duel in the powerful rock- the-rafters song "Save Our World."
One more newcomer to Chicago is Alanna Kalbfleisch who is poignant as The Doctor. She's one of several physicians frustrated that she can't offer her AIDS patients more than a moment of hopeless comfort to help them through the few days they have left. She beautifully expresses her feelings in the dour and distressing, "Another Today."
But, if there's one breakout star of this production, it's Joe Giovannetti as The Lover. This brilliantly talented musical actor portrays with ease his character's deep love for The Man, along with his stonewalled vexation at not being able to heal his life partner. The chemistry between Huston and Giovannetti is incredibly real. It unites them and rolls over the footlights and out into the hearts of every theatergoer. But when the two men sing "Believe," one of two pullout songs from this gorgeous score, there isn't a dry eye in the house.
Some of us have actually lived through this horrible, frightening period of time. We've watched helplessly as friends, relatives and loved ones suddenly became mysteriously sick and then wasted away into living corpses. We've buried too many kind and talented young men and women to ever become complacent about the AIDS epidemic.
To younger audiences, this dark era of illness and death is something vague from the past that they've only heard or read about. However, like the Holocaust, it's a moment in history that must never be forgotten. With Cousineau and O'Connor's remarkably moving Chicago production,every theatergoer, young and old, will always, always remember.
DETAILS: "All That He Was," is presented  by Pride Films & Plays at The Buena Theatre, 4147 N. Broadway, Chicago through Sept. 15, 2019.  Running time: 100 min., no intermission. For tickets and other information visit Pride Film and Plays.
Colin Douglas
For more shows visit TheatreInChicag0.