T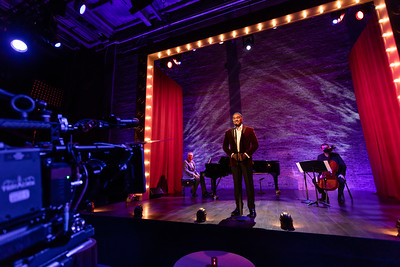 he Lyric Opera of Chicago has come up with an amazing substitute for the large-scale musical it produces on its large-scale stage at the end of its operatic season.
Titled "the New Classics-Songs from the New Golden Age of Music Theater," it is about a 70-minute-long mix of dramatic, sad, wistful and powerful show numbers that some listeners will know but others may not find familiar.
And instead of coming from the Lyric's grand stage, the production was mostly recorded back stage in an intimate, former Civic Opera space.
Hosted by David Chase who also accompanies the singers along with  members of the Lyric Orchestra, the program reintroduces some notable musical theater by notable composers.
Vocalist Gavin Creel opens the program with the obscure Stephen Sondheim "What More Do I Need" from Saturday Night followed by Nikkie Renée Daniels' wistful rendering of the well-known "The Heather on the Hill" from Brigadoon. Norm Lewis then wows with "Stars" from Les Miserables.
Jenn Gambatese changes the mood with "Gimme Gimme" (Love) from Thoroughly Modern Millie and Heath Saunders offers a moving "Something Wonderful" from The King and I.
Jo Lampert puts the best interpretation I've heard on "Omar Sharif" from The Band's Visit and Amanda Castro "flamingo" taps the way to the top of her building with "Raise the Roof" from The Wild Party.
Chase segues to historic references between numbers to the Civic Opera and more show tunes sung by the cast (introduced above) that also include "Love Changes Everything" "I Will Never Leave You," "Dear Theodosia," "Way Back to Paradise," "I'd Rather be Sailing," "Popular," "If Only" and "Rain."
Guess which shows those songs came from or better yet, click on the production. It  premiere this Thursday, June 10 at 7 p.m. CT on Lyric's Facebook and YouTube channels. For more information visit The New Classics.
Jodie Jacobs