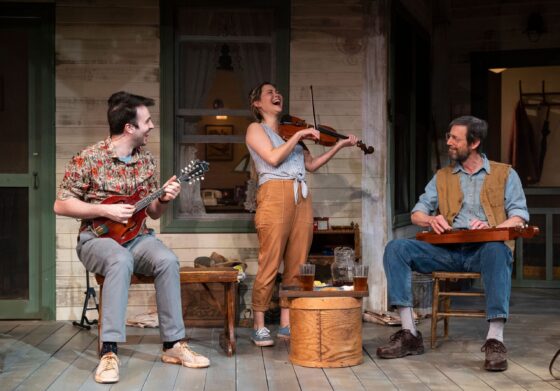 4 Stars
 Maybe I'm a sucker for how folk music tells stories of other cultures while also leading to life changing experiences.
I loved "Once" since seeing it downtown Chicago years ago and just recently at Writers Theatre in Glencoe.
Steeped in Irish folk music and movement, the play brings an Irish musician/songwriter back from the brink of self-destruction as "Girl" whom he meets, convinces him his music is listening-worthy.
Then, this weekend, I fell in love with "The Porch on Windy Hill," a bluegrass musical presented by Northlight Theatre in Skokie.
The play reunites Mira, a classical violinist, with Edgar, her Appalachian grandfather, a noted blue-grass musician living in the North Carolina mountains.
Ostensibly, the reason they see each other again is because Mira's partner Beckett's doctoral dissertation is on folk music cultures and they needed a break from their Brooklyn apartment where they were cooped up during the pandemic.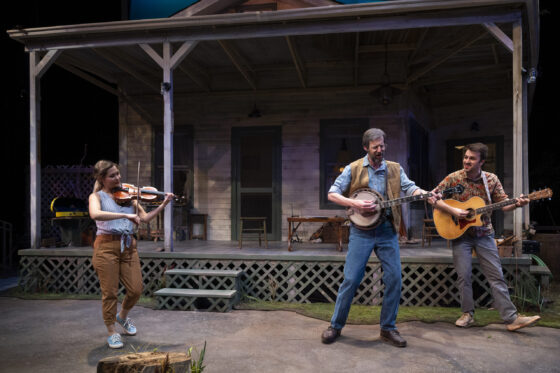 All three characters are really fine musicians and Mira, played by Lisa Heimi Johanson, has a terrific voice. So basically, audiences are treated to an exceptional "wingding" or "hootenanny." But there is a backstory.
Beckett, portrayed by Morgan Morse, keeps trying to get Mira to explain why there appears to be a disconnect between her and her grandfather, called "Gar," played by David M. Lutken.
Clues are dropped along the way by Mira who is biracial as she notices some changes around the old homestead. When Gar mentions that new families are moving into the area, she wonders if and how they are accepted.
When pressed again by Beckett, Mira, whose mom is from Appalachia and whose father is Korean, finally said, "It's complicated." Later, she admitted she felt her grandfather didn't approve of the union because of his behavior towards her and her family.
Conceived and directed by Sherry Lutken, "The Porch on Windy Hill," was written by Sherry Lutken and its actors: Lisa Heimi Johanson, Morgan Morse and David M. Lutken.
Set designer Mara, Ishihara Zinky, came up with the perfect porch and housefront for the play's joyful music and serious discussion. 
Details: "The Porch on Windy Hill" continues through May 14, 2023, at Northlight Theatre in the Center for Performing Arts, 9501 Skokie Blvd, Skokie. Running time: 2 hrs., 10 min. with one intermission. For tickets and other information visit Northlight Theatre.
Jodie Jacobs
For more shows visit Theatre in Chicago