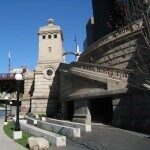 From the Obamas in Hyde Park and the trail of the Great Chicago Fire noted on its 150th anniversary to the little known River Museum and McCormick Bridgehouse at Michigan Avenue and the Chicago River, Chicago has so many interesting places to visit, inside and out, that it would take the old saying of "a month of Sundays" to explore them. Fortunately there is  Open House Chicago .
Organized and hosted by the Chicago Architecture Center every October, OHC used a mobile app App · Open House Chicago for virtual explorations in 2020.
It will be available in an expanded virtual version (updated Oct 1) to include neighborhoods for 2021  and run from Oct. 1 through Oct. 31. There will also be in-person visits Oct. 16-17, 2021. That will include behind-the-scenes visits and access to more than 100 venues in 30 Chicago neighborhoods and some suburbs
OHC is a free public event. However, there are a couple of special fee programs open to the public for a fee (waived for members of the Chicago Architecture center). Registration and tickets are required for programs and some visits. Previews on September 28 and 29.
For more information visit Home | Chicago Architecture Center
Jodie Jacobs