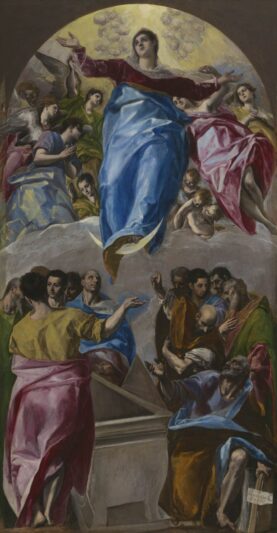 Looks like the internet, TV and bookstores such as Barnes & Noble are going to be the go-to places for A & E, at least through March.
The latest closures to come into the Chicago Theater and Arts on-line desk are the Art Institute of Chicago, Chicago Symphony Orchestra and some museums. Please carefully check possible reopening and rescheduling dates and ticket options.
The museum will be shuttered from today, March 14, through March 28 but events such as tours, performances and lectures will be on hiatus through April 10, according to a just released statement.
It added that the closure will allow the museum to develop "rigorous health and safety standards and protocols." Purchased tickets can be refunded to the card used within 10 business days.
Fortunately, AIC's current exhibition, "El Greco: Ambition and Defiance" goes through June 21, 2020 so there is still time to see the famed artist's most notable works and also learn he was skilled at more than religious paintings.
Beginning March 12, all Chicago Symphony Orchestra Association concerts at Symphony Center and pre- and post-concert special events were canceled through at least the next 30 days . The CSOA's statement said ticket holders to canceled concerts could exchange them for other concerts or request a refund. For more information call (312) 294-3000 or visit CSO org/alert.
Museum Closure Updates
Citing both IL Governor J.B. Pritzker's mandate to close gatherings involving 1,000 people or more and their own desire to safeguard their patrons and staff, several museums have closed for the rest of March. However, their re-opening varies by museum so best plan is to check their websites.
Normally jammed with students on Spring Break, the Shedd, arguably Chicago's top (non-art) museum attraction, is closed through March 29. Their statement reads: "Our dedicated caretakers and veterinarians will continue to provide the highest standards of professional care and welfare for our animals on site. And, until we can welcome you back, we invite you to stay connected to them behind the scenes via Shedd's Facebook and Instagram, as well as explore, experience and learn more about the aquatic animal world through our other digital resources.
For information on refunds and rescheduling of previously purchased tickets, group and experience reservations, programs and events and more, please email contactus@sheddaquarium.org or call us at( 312) 939-2438.
Please also visit Adler Planetarium, the Field Museum, Museum of Contemporary Art and the Museum of Science and Industry about their closures.
Jodie Jacobs