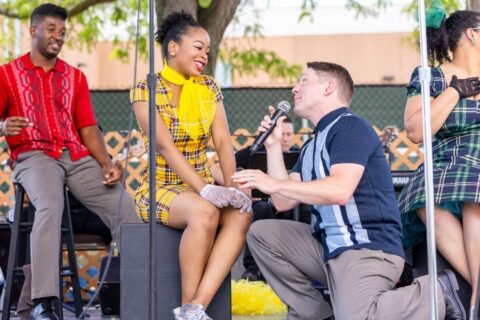 4 stars
Grab a seat. Enjoy summer outdoors listening to talented singers and musicians perform nearly 60 classic and cherished songs from the 1950s to the 1960s. Music Theater Works, the North Shore's famed musical production company typically performing from Evanston venues, is doing  Legends Of The 50s and 60s: Greatest Hits outside Skokie's North Shore Center For The Performing Arts, June of 2021.
While it is often a challenge to get audiences engaged, the performers and band faced no difficulty in doing so. Anyone who watches this show will undoubtedly want to join along in song and dance due to both the pure talent of the performers.
Co-directed by Music Works Producing Artistic Director Kyle A. Dougan and Martin L. woods, the performers' strong and vibrant voices made the entire show come alive as they moved through the hit songs of such talents as Buddy Holly, Doris Day, The Supremes, Elvis, The Temptations,  George Harrison, Aretha Franklin and Bob Dylan.
Additionally, the performance was heightened by the performers' pure professionalism. The show flew smoothly from high energy number to number without missing a beat.
This show is an excellent choice for music lovers and a great escape to share with family and friends. Though the music might appeal more to older generations, younger people will definitely find enjoyment as they are introduced to less familiar classics. It is a must-see for anyone in the Chicagoland area looking for a talent-filled fun event.
Details: Music Theater Works' Legends Of The 50s and 60s: Greatest Hits is  outside the North Shore Center For The Performing Arts, 9501 Skokie Blvd, Skokie, IL 60076 from June 18th through June 27, 2021. Run time: Two hrs. 20 minutes, plus a 15-minute intermission. For more show information and tickets visit MusicTheaterWorks.com/BoxOffice or call (847) 673-6300.
Charles Babikian
For more shows see Theatre in Chicago