SOMEWHAT RECOMMENDED
An irreverent priest, tale weaving drinking buddy, sex starved fiancé and infirm old mother make up some of those attending Flanagan's Wake  now at Chicago Theater Works.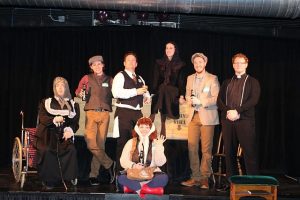 Flanagan has sadly passed, and you, along with a small cast of characters and about 50 other mourners are invited to attend his wake.
The room is outfitted much like a church basement community room or banquet hall with a small stage on one side and an open bar complete with bartender, who also happens to be the town's mayor, on the other. Drinks are available for purchase before and during the proceedings.
When you enter you might be greeted by any of the cast who interact with the audience in character and will craftily weave what information they have learned from you into the performance. They may ask questions such as, "how you happen to know Flanagan" and "what you remember about him."
This is an interactive improvisational performance so come in a good mood and be ready to participate. It is the type of experience that can be particularly fun with a small group of friends.
The audience is seated at tables of six or eight much like any large social gathering. If you come as a party of two you will likely be seated with four other people. We had a good time at our table of six comprised of three groups of two.
Like any improv experience the humor is sophomoric at times; clever and inspired at others. The cast is capable and it is clear that they are well practiced at their craft.
The highlight for me a was clever ditty composed by the grieving fiancée, Fiona Finn, that was created on the spot based on an idea from an audience member.
This is not high humor or great theater but if you are looking for an alternative to a sports bar, maybe a date night or just some good laughs with a few friends, what can be funnier than attending an Irish wake, at least if it is Flanagan's Wake.
DETAILS: 'Flanagan's Wake' at Chicago Theater Works, 1113 West Belmont, Chicago, runs through Nov. 9, 2017. For tickets and other information visit Chicago Theater Works.
Guest reviewer Reno Lovison is not Irish but always happy to share a Guinness with some mates.