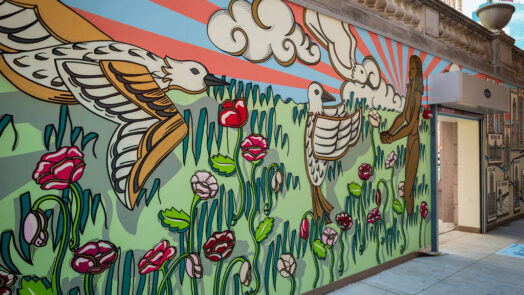 If looking for an outdoor destination, consider Chicago's Riverwalk, a 1.25 mile-long path along the Chicago River from Lake Street on the west down to Lake Michigan's lake front on the east.
There you will find plenty of artwork to photo and put on Facebook, the Community Marketplace area open on weekends with the Shop Small Chicago place carrying local products and some café's and other vendors to visit by appointment.
Be sure to see and photo  "Radiance of Being" and "The People In Your Neighborhood" organized by the Department of Cultural Affairs and Special Events (DCASE) in collaboration with the Department of Assets, Information and Services (AIS).
"Radiance of Being"
Located at the Community Marketplace area between Michigan Avenue and Wabash Street,  look for artist Kate Lynn Lewis' The Radiance of Being" mural series that celebrates the city's Art Deco architectural style.
Among the structures saluted are the Palmer House, Palmolive Building, Chicago Motor Club, Adler Planetarium and the St. Jane.
"The People In Your Neighborhood"
Further west at the Confluence area near Lake and Franklin Streets, look for street artist Dont Fret's "The People in Your Neighborhood." It consists of 55 paintings that include such folks as Gino Gambarota who is the chef at Manny's Deli.
Riverwalk information: serous recreational use by runners, walkers and cyclists tends to be 6 to 10 a.m. followed by what is called the passive recreation of sightseers and business visitors. Face coverings are required.
Enjoy
Jodie Jacobs